While we're all letting the news that 19-year-old Miley Cyrus is engaged settle into our brains, here's news on a wedding you might have missed: actress Drew Barrymore and Will Kopelman got married over the weekend in California. (The couple is also expecting their first child together.)
We've been dying to see what Drew would wear to get married ever since the wedding details leaked, and we were especially eager ever since those pics started floating around of Drew's BFF Cameron Diaz helping her try on a veil on at a Chanel store. And now, People magazine has revealed a sneak peek of the gown on its upcoming cover.
As Us Weekly reported last week, Drew got hitched in a custom made Chanel gown: "The bride and mom-to-be wore a long white dress in pleated muslin and organza, designed for Barrymore by Karl Lagerfeld himself. The skirt of the dress was embroidered with flowers in organza, muslin, tulle and feathers. A black satin belt accentuated Barrymore's waist -- and baby bump. She also accessorized her bridal gown with Chanel Fine Jewelry."
Barrymore and Kopelman's nuptials had a "vintage romantic" theme -- and it looks like Karl's ruched Chanel frock was the perfect icing on the cake.
Read more at People, and catch a sneak peek of the dress below.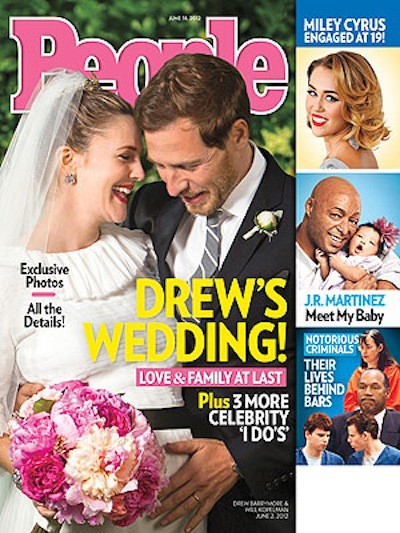 See Drew's style evolution!
PHOTO GALLERY
Drew Barrymore's Style Evolution
BEFORE YOU GO