Food Informants is a week-in-the-life series profiling fascinating people in the food world. We hope it will give you a first-hand look at the many different corners of the food industry. Know someone who would make a great Food Informant? Tell us why.
Emiliano Lee comes from a long line of grocers and his passion for cheese dates back to his childhood in Oakland, where he could be found stealing bites of Rouge et Noir brie from the wheel in his father's desk drawer and spending his allowance at the 6th Avenue Cheese Shop in San Francisco. After working as a cheesemonger throughout the country, Lee is now the Artisan Market Manager for Farmshop in Los Angeles. Since 2009, Lee has served as a judge for the American Cheese Society, affording him the opportunity to taste thousands of cheeses from hundreds of North American producers, and provide them with valuable aesthetic feedback. Additionally, Lee participated in the 2010 Cheesemonger Invitational, served as a panelist at the 2011 Sonoma Valley Cheese Conference, and most recently was a panel moderator at the 2011 American Cheese Society Conference.
Read on to learn how this lactose intolerant cheesemonger manages a growing retail market space.
Monday, May 21
6:25am: Up and at 'em! At this point, sleeping past 7 is sleeping in. Seven months into the project of building the market at Farmshop, and almost five months since our soft opening after Christmas. Since which has been filled with early days and late nights, yet every morning I wake up ready and anxious for more.
7:33am: Parked the car in my usual spot, about a quarter mile from work. Walking to and from will be the most focused exercise I get these days. The architecture geek in me loves strolling past the mini estates folks have built for themselves on this stretch.
7:42am: Mocha time. Almond milk. Ironic being a lactose intolerant cheesemonger. Must be the masochist in me.
6:45pm: Woodworkers are here installing new fixtures, dropped off modular shelving units. Geeking out on merchandising options now when I should probably be headed home.
7:15pm: Reset a couple shelves of preserves and chocolates. It's like an ever changing puzzle, how best to build displays to draw attention and maintain the flow of eye traffic.
7:35pm: The ice machine leaketh! Good thing I'm still here? Time to grab the mop and make some phone calls.
8:55pm: Working more in order to work less? Looking at two days of downtime, so I'm in the office cranking out order guides and setting up my team for their tasks at hand.
Tuesday, May 22
10:02am: Brooksley texts to confirm lunch. A little back and forth, and it looks like we're hitting a Korean burger joint later. Sitting in the lobby waiting for my oil to be changed.
1:02pm: Roll into the parking lot, hitting Miru 8691 for lunch. Odd name, and yet another strip mall. Still adjusting to that. Brooksley arrives at the same time. Haven't seen her in years, meeting her new daughter, and just wishing Andy could be here too. We'll have to all figure out when we can hang. Oh the joys of being adults with demanding jobs.
3:15pm: Lunch was interesting and delicious. Kimchee fries? Korean bbq burger? Good, but a little heavy. Will have to go back and try some other options. I was craving a bit of fat and grease though, so that hit the spot! Catching up with Brooks was great. I've really missed her and Andy. Now to figure out how to make more time like that to hang and relax.
Wednesday, May 23
9:17am: Actually managed to sleep. My body wants more. My first time with more than one day off to myself, I'm inclined to listen and just relax. Time to decompress and prepare for the long weekend ahead. Now that the shop is more established, we're looking to be mighty busy for Memorial Day.
3:12pm: Napping on and off all day so far. Baked off some scones my friend Alison prepared and froze for me when she was in town from Chicago the other week. Bacon and cheddar scones. Ate them with buttery grits and fried eggs. Divine.
Thursday, May 24
7:13am: On the freeway heading in to work. The first of three straight doubles. Hadn't realized at the time I wrote the schedule and gave my assistant manager three days off that it was Memorial Day weekend! Silly boy. This morning's soundtrack: Slayer. Time to get the blood pumping and power through the next few days.
8:03am: Checking in with the crew and doing my usual back-from-a-day-off walk through. Not too shabby. A handful of items that didn't get put out, but for the most part everything is as it should be. Again, the theme of letting go. It's all about support. Giving my crew the tools they need to do the job that I expect, and not relying upon myself to do it all.
8:47am: It's great seeing the cheese case so full and abundant. And more and more old friends falling into place. Rockhill Creamery arrived last week and I've already gotten a second order in. Seeing how Pete & Jen's cheeses taste and fit into the scheme of things here and how well received they've been is fulfilling indeed. Being able to carry on those relationships and continue to support the cheese makers I've bonded with over the years really makes it all worthwhile. Seeing the smiles and reactions when giving people their first taste of something new? Priceless.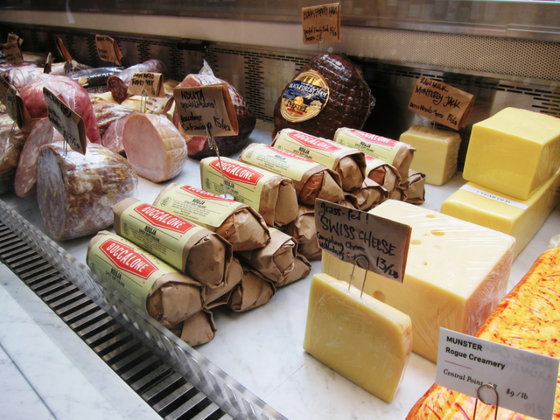 10:23am: Grabbing a quick nibble off the family tray in the bakeshop. Blueberry polenta cake, oh how good and evil you are! I don't even want to know how many of these I've eaten over the weeks. They do keep me going though, that's for sure. Sometimes it is all I remember to eat until nightfall aside from many nibbles of cheese and meats to taste how everything is doing in the case.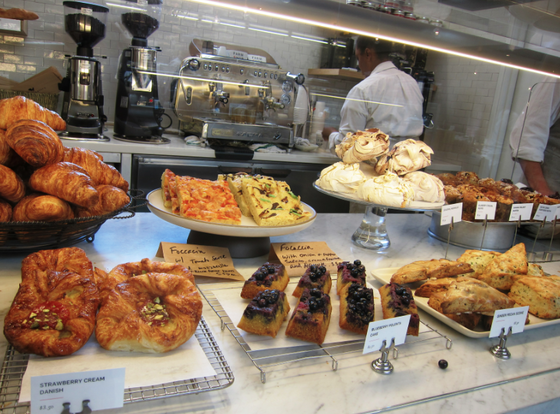 11:15am: Cranking through sandwich production and starting to get the stream of folks coming in for prepared foods. Need to hire another hand or two to help out and get some further support so we can focus more on education. With so many unique products on the shelves, we could practically use a tour guide to walk guests through the shop. Something I love doing myself as every item has a reason for being here and a story behind it.
3:20pm: In the lull now between lunch and dinner service in the restaurant, but that is becoming less and less of a lull in the market these days as more and more people learn about what we have to offer and start coming by more often. Covering the counter while the overlap between morning and evening shifts occurs, getting everyone's breaks taken care of while we have the bodies on hand.
5:20pm: Finally getting myself off the floor. Grabbing a quick bite (tuna salad and coleslaw) while I browse through the day's emails thus far and take care of some paperwork before heading back down to count out the tills and start wrapping up the day's business.
7:15pm: Longer closing shifts than usual as we prepare the butcher case for a busy holiday weekend. In the prep kitchen forming beef patties and laying out steaks for display. Oddly energizing!
9:08pm: Sent the crew home about an hour later than normal for a regular weeknight. Stepped in to help them close down and clean up to head home. Glad to see them ready and willing to pitch in longer hours and tackle tasks this late in the day in good spirits.
10:35pm: Finished up on the back end now. Filled out the cash log for the day, wrapped up the more important and urgent emails, wrote up my manager's log entry for the day.
Friday, May 25
7:48am: Checking in before donning my coat and apron, the cases look good but already we've got special orders calling in for burgers and accoutrement.
10:32am: Busy right from the start, and no sign of letting up. Aside from the usual business, we've got special orders to fill and cheese & charcuterie platters to build. It's tedious but fulfilling work putting those together. Like painting. Cheese and meat flowers we call 'em. Something I've always taken pride in, as with everything it's down to the details. Appeal to all the senses, use the best of what you've got, and make it pop... but at the same time, keep it simple. It's a fine line between beautifully built and cluster f*ck.
1:35pm: Particularly solid crew today, cranking out sandwich production and covering all the bases. Can't put a price on this kind of support, and everyone on board looking out for each other.
5:40pm: Pushed through the bulk of the day pretty strong, great energy and everyone feeding off one another. Did a ton of merchandising today with lots of new products in, and it's been awesome having fruit back in from our friends at Frog Hollow Farm. Amazing stone fruits, and guests keep commenting they're the best they've had. Great thing about that: these are first of the season and they're only going to get better! And once more, it's all about those relationships. The guys here have had a great long relationship with the farm, and aside from the farmers' market we're the only other dedicated retail outlet for their mouthwatering produce. Had them bring down a ton of preserves on their truck this week as well, so we're packed and set there too. A quick nibble and glancing at emails in the office before I head back down to start the closing out process.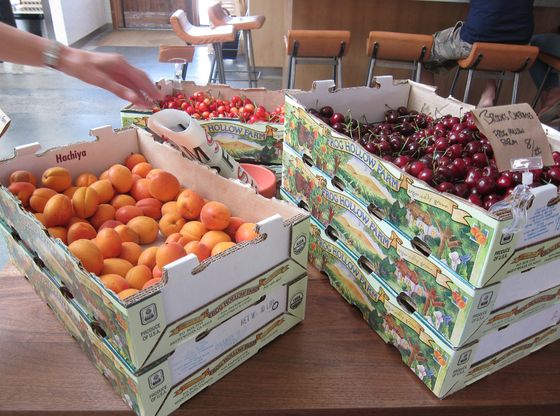 9:55pm: All wrapped up downstairs. A really solid day, and our second best sandwich sales to date. Great seeing the crew step up to that challenge since we've started that whole arm of the program. It's added a whole new element to the market and created a dynamism on the service island that was just a bit lacking before. Like someone commented last week, "Now it feels like... a market!" It's been a blast seeing each new piece come together, and it's going to be a hoot looking back in a year and seeing the progress we've made. Bit by little bit, and sometimes lots!
Saturday, May 26
6:18am: Hitting the road early today as we have some early platters and orders to complete, and it should be packed and busy busy busy today. Slayer and Metallica for the drive in.
10:25am: The place is packed, and there are a ton of people wandering through... but it feels more like everyone is out for a day at the markey rather than doing any holiday shopping. No worries though, the important thing is that they're tasting. With so much of what we have to offer unavailable elsewhere, sometimes that's all it takes. Always great when someone comes back a week or two after trying something saying they couldn't get it off their mind and just had to come back for more. Lately, Seana Doughty's "Fat Bottom Girl" has been doing that a lot. Gotta love it.
6:40pm: Counting out the tills, was asked what I was doing at 9. Sitting in the office wrapping up, I replied. Looks like I'm headed out for a drink. God knows I could use one tonight!
9:04pm: All wrapped up, and the closing crew was able to wrap up the day smoothly and get set up for tomorrow morning with time to spare. Have a feeling tomorrow is going to be a crusher with all the lookers coming back to buy. Headed out for a drink, and probably a bite as I've only had a bit of tuna and cucumber salad today.
9:32pm: At Waterloo & City. Love this place. Great house made charcuterie, great food, and great drinks. Starting with a pint of Old Speckled Hen, and Mich just ordered us a couple plates of prawns.
10:18pm: Drinks are sliding down easy, and those prawns were amazing... and huge! Two filled the plate, sitting on a luscious puree of something delicious (didn't catch it in the description) aside some grilled radicchio. Totally hit the spot. Ribeye for two coming up next.
12:38am: Bloody red meat seared to a crusty perfection and a bottle of wine later... definitely a much needed relaxing moment. Good conversation connecting with a comrade in food. Meeting some good folks tonight, too. Charcuterie wishes and humidity controlled walk in refrigerator dreams, my friends. Thinking about the basement and dreaming up a wish list.
3:12am: Mich broke out the old Wax Trax box set, listening to some classic and groundbreaking tunes before calling this late night a wrap.
Sunday, May 27
7:20am: In early again, making sure we've got the day's special orders lined up. Also have two big platters to build for a wedding that Mina from Grace & I is attending. A little something extra as she's always good to us.
9:25am: Second mocha down, and too busy to be tired. The place is hopping early again. Not as much foot traffic as yesterday, but now we're selling up a storm. The stream is steady with the occasional big order to fill. People are stocking up for tomorrow. Good thing, too... we may have underestimated the turnout for fresh meat. The beef is flying out the door. It feels great, and again the energy in the shop is riding high.
11:14am: With my mid shift on the floor, we've got support to keep us from feeling overwhelmed. Plus my assistant is back! I'm definitely keeping a better eye on the calendar from here on out. And I appreciate all the more what she brings to the table and the support she gives. Last night aside, this has been an exhausting stretch. Probably our busiest weekend since opening.
6:28pm: One more day to go, and not working the closing tonight is a relief. Not exactly an early day, but I'll take it. Numbers look good. Proud of the whole team, too. Everyone on the floor really made this weekend a success thus far, and I hope they had as much fun working it as I have. Exhausting, but these are the moments we live for in this business. Fun fact: tomorrow we should break the 1000 mark on sandwiches sold so far this month. Not too shabby for our first few weeks of making them... can only imagine what that program will be looking like next year. After this weekend, I've come to realize how important good support is and how much more we can use. Time to place more ads and hope to meet some good candidates. It's more difficult than you think... especially here where we're looking for retail workers in a world of waitstaff. Thankless? Sometimes. Fulfilling? In this case, definitely.
7:49pm: Made it home, and the siren's song sings of sleep. Going to lie down earlier than I have in years and see what dreams may come.
See more Food Informants below:
PHOTO GALLERY
Food Informants