A new exhibition at the Metropolitan Museum of Art, titled, "Naked Before the Camera" explores the erotic relationship between the camera and the body. The tryst spans from 1850 to modern day in Europe and the United States, with appearances by photography all-stars including Félix Nadar (aka Gaspard-Félix Tournachon), Eadweard Muybridge, Man Ray, Irving Penn and Robert Mapplethorpe. The exhibition, comprised of pieces from the museum's permanent collection, runs the gamut from scientific to surreal, exploitative to empowering. Throughout most of the images an erotic undertone -- though not blatantly sexual -- holds sway.
"The sense of the unattainable that can be evoked by photographs feeds directly into the erotic feelings of those for whom desirability is enhanced by distance," writes Susan Sontag in her book, "On Photography." We can see the results of this sentiment below. The power of the collection is in its subtlety, which only accentuates the inherently charged relationship between camera and body.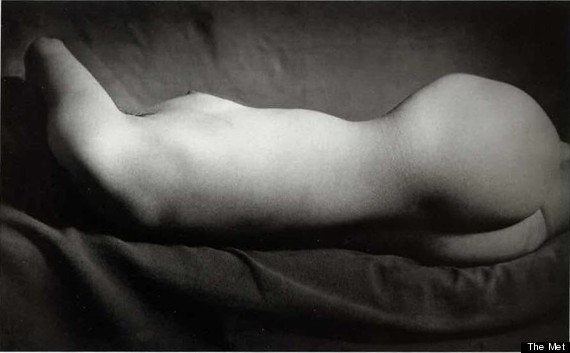 Brassai, Nude, 1931
Each depiction of the body presents a different way of seeing the human form. The earlier works present the body as a subject in itself, physically marvelous whether physiologically, aesthetically or sensually. Albert Londe's "Male Musculature Study" portrays a man's naked body from behind as a straightforward arrangement of muscles and parts, objective almost to the point of protesting too much. Brassai's "Nude" presents the male gaze in action, capturing the naked female form as mystery and muse. The milky curves of the body writhe and glow, detached from face or context.
Beginning with surrealism and edging into modernism, the body acts less as a subject unto itself, morphing into a site for the human interior to make itself visible. Surrealism projects the warped imagination onto contorted and isolated body parts, as in Man Ray's "Arm." Later photographs show the body as politicized and didactic, representing dissent, freedom and sexual identity. Gary Winogrand's "Easter Sunday" captures a naked man amidst a clothed crowd, depicting nakedness as a statement instead of just a state.
"Naked Before the Camera" will show at the Metropolitan Museum of Art in New York until September 9, 2012.
See a slideshow of the work on view at the Met below:
PHOTO GALLERY
Naked Before The Camera
BEFORE YOU GO