See someone get unfairly stopped and frisked by the NYPD? There's an app for that.
The New York Civil Liberties Union released a free "Stop And Frisk Watch" app Wednesday, allowing New Yorkers to record and report police interactions that don't quite meet the standards of "Courtesy, Professionalism and Respect."
"Stop and Frisk Watch is about empowering individuals and community groups to confront abusive, discriminatory policing," NYCLU Executive Director Donna Lieberman said in a statement. "At a time when the Bloomberg administration vigorously defends the status quo, our app will allow people to go beyond the data to document how each unjustified stop further corrodes trust between communities and law enforcement."
In 2011, New York's finest stopped and interrogated people 684,330 times. 87 percent of those stopped were black or Latino. 9 out of 10 people stopped were neither issued summonses or arrested.
The sleek app-- which serves a similar purpose to Jazz Hayden's "Copwatch" video series-- has three simple functions:
Record: This allows the user to film an incident with audio by simply pushing a trigger on the phone's frame. Shaking the phone stops the filming. When filming stops, the user immediately receives a brief survey allowing them to provide details about the incident. The video and survey will go to the NYCLU, which will use the information to shed light on the NYPD's stop-and-frisk practices and hold the Department accountable for its actions.

Listen: This function alerts the user when people in their vicinity are being stopped by the police. When other app users in the area trigger Stop and Frisk Watch, the user receives a message reporting where the police stop is happening. This feature is especially useful for community groups who monitor police activity.

Report: This prompts the survey, allowing users to report a police interaction they saw or experienced, even if they didn't film it.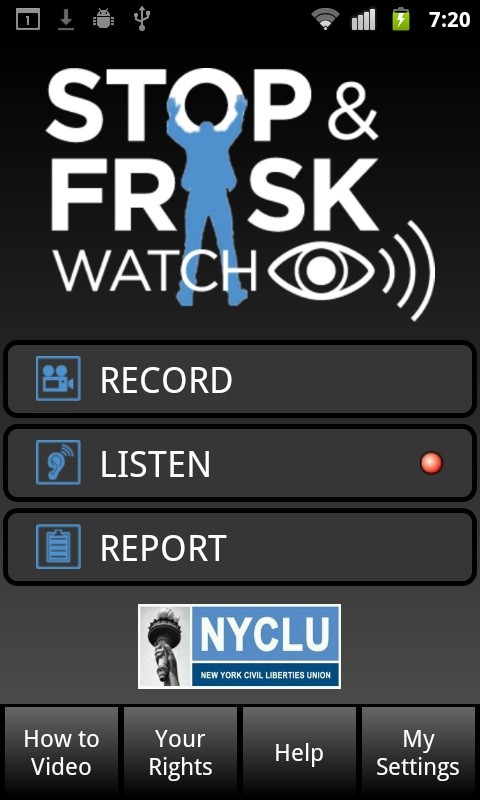 Stop And Frisk Watch also features a "Know Your Rights" section which informs users of their rights to film NYPD stops, in case they are in fact confronted by police. Cops, you might remember, don't always like being filmed.
The app, the NYCLU says, is meant for observers, not those actually being stopped by police.
The app was developed by Jason Van Anden, the designer behind the Occupy-inspired "I'm Getting Arrested" app last year.
Van Anden, a Flatbush resident, was motivated to make the app after witnessing police stops in his neighborhood. "I have witnessed the negative impact stop-and -frisk has had on some of my neighbors," he said. "Racial profiling creates distrust between the community and the police. We need more trust, not less. I hope that this app will help to discourage, and ultimately end, this unfair and abusive policy."
Stop And Frisk Watch is only available for Android phone users. Later this summer, it will be available for iPhones.
The NYCLU plans to use footage collected from app users to "put a face on what stop-and-frisk really looks like and to highlight how unjustified stops erode trust between the community and the police." Also, it will be used "in press work, to lobby public officials, in public education, in advocacy and potentially in litigation."
The NYPD is none too plussed about the new app. "Just what we need, somebody telling kids stopped by the police to quickly pull a handheld advice out of their pocket," one law enforcement source told The New York Post.
And NYPD spokesman Paul Browne quipped, "Surprising that the NYCLU wants to create a database of police stops, including arrests, without privacy guarantees."
The app's settings also allow the user to input their name, phone number, and email, but a disclaimer warns, "There may be situations where the NYCLU may be legally required to disclose this information, such as when the NYCLU receives a subpoena." Carnig says the NYCLU will be "encouraging app users to include their personal information so we can follow up with them if we need to, but we won't be tracking people down if they wish their identity to remain anonymous."
Meanwhile, Governor Cuomo Monday introduced legislation that would prohibit cops from arresting low-level marijuana -- one of the most common arrests resulting from police stops. Surprisingly both Mayor Bloomberg and Police Commissioner Ray Kelly-- otherwise staunch supporters of everything stop-and-frisk-- support Cuomo's plan.
Tuesday, Bloomberg also conceded that stop-and-frisks haven't reduced the number of shootings in New York, but insisted that the policy has played an integral part of reducing the murder rate.
A massive silent march is planned for Father's Day, June 17th, in Central Harlem to call for stop-and-frisk reform.