The 2012 UEFA European Football Championship, the world's second-best soccer tournament behind the World Cup, kicks off Friday, June 8th in Poland and the Ukraine.
In New York this means legions of the city's soccer fans will find ways to skip out of work (because of the time difference, games here will be played at noon and 2:45 PM) and slip into a bar. Thankfully, there are many, many watering holes in New York that will be opening early for the games. Check out our 10 best places below. This is going to be great.
(For a full tournament schedule, go here.)
Where: Now at Webster Hall. 125 East 11th Street between 3rd and 4th Avenue.
Any serious soccer fan in New York, knows Nevada Smith's, "where football is religion." Now in a new location less than a block away, stand shoulder to shoulder with fans from across the world. Nevada Smith's will be playing all the games, all day, everyday.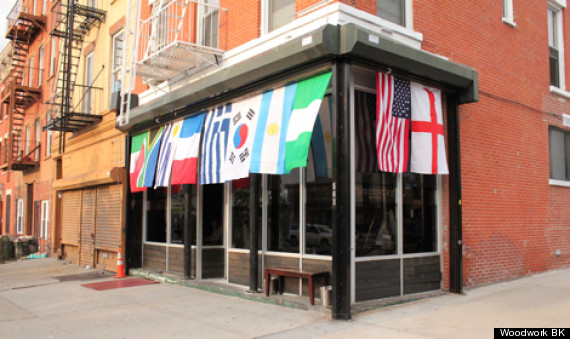 Where: Vanderbilt Avenue at Dean Street in Prospect Heights.
Three 50-inch, high-definition televisions, extensive wine and beer selection, and a raucous group of regulars make Woodwork a great place to drink ALL DAY for the rest of the month.
Where: 304 Bowery between Bleecker and Houston.
Straightforward Irish pub with a nice beer selection. A good place to watch Ireland maybe hopefully exact revenge on France for that Theirry Henry handball that knocked them out of the World Cup qualifiers a couple years back. Erin go bragh, bro.
Where: 54 Spring Street, between Mulberry and Lafayette.
16 HD TV screens. Surround sound. All with an impressive menu of food and cocktails. ENOUGH SAID.
Where: 352 Seventh Avenue, near 30th Street.
We'll let them persuade you:
We're dedicating our entire upstairs sports lounge to the matches, and will have the sound turned up on at least ten screens for every match. We will also have rotating food and drink specials each day. Only at Mustang Harry's will you be able to get a gourmet sandwich and a draft beer for just $12.
Oh, also. HeBrew Genesis Ale for $3.
Where: 785 9th Ave Bet 52nd & 53rd New York.
Nine giant screens with the sound turned up. A mouth-watering build-your-own burger menu. It's gonna be busy. Call 212-767-0077 to reserve your table now.
Where: 14 East 33rd Street, between Madison Ave. and 5th Ave.
One of New York's best craft beer bars. In between games, go to the top of the Empire State building nearby, just because.
BANTER BAR

Where: 132 Havemeyer Street, Williamsburg
Offering a beer from each of the 16 nations competing in the tournament! And if you're feeling ambitious-- and have saved up a lot of sick days from work-- you can buy the Euro Beer Passport. For $64, the Passport provides you each of the 16 beers, including Okocim Pale from Poland and Sagres from Portugal. Also, raffles and giveaways. You see, New York? Williamsburg can have a fun sports bar too.
Where: 320 Atlantic Avenue between Smith and Hoyt Streets
Patch gives a nice description:
With just one flat-screen hanging in the front room of this classy Cilento-themed eatery on Atlantic Avenue, Hopeland is perhaps the most intimate of all options for game viewing on Saturday and Sunday. But the owners themselves are avid futbol fans and will likely be watching along with you.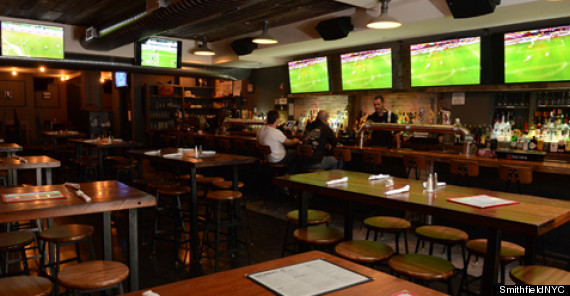 Where: 215 West 28th Street
Touting itself as the "best football bar" in the world, Smithfield features locally grown food, craft beers and LED HDTVs. Also, if you're feeling swanky for Euro 2012, book a private party in the luxe Wallace Room.