It's easy to create a sweet setting with this Craft Of The Day. These lace candle holders from By Wilma are delicate and pretty, and will add charm to any room or tablescape. We love them in white, but you can customize them with whatever color lace will match your decor. Plus, when burning in a dimly-lit room, these candle holders cast lovely soft shadows on the walls of your space. Romantic, we know! Ready to add a little interest to an ordinary candle holder? Keep reading for the how-to.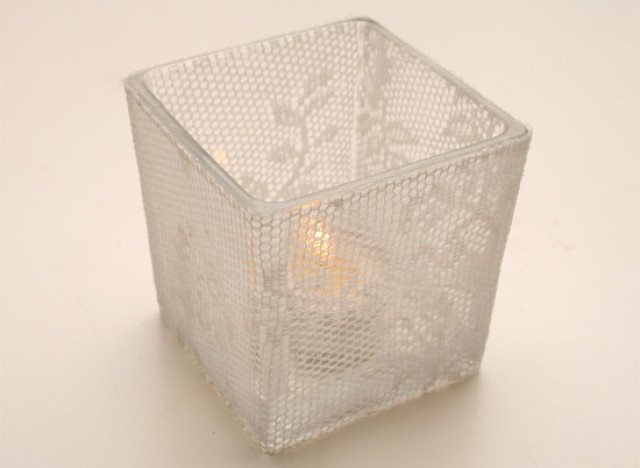 Photo by Wilma Boekholt for By Wilma.
You'll Need:
Lace fabric
Glass candle holder/small glass cup
Paint brush
Mod Podge
Measuring Tape
Scissors
How to Make It:
1. First, measure the perimeter and height of the candle holder and cut the lace to that measurement, leaving a little extra length (You can cut the excess off later).
2. Using a paintbrush, cover the sides of the candle holder with Mod Podge.
3. Carefully smooth the lace over the Mod Podge, starting with one side and working your way around the candle holder slowly.
4. After applying the lace to the holder, paint a coat of Mod Podge over the lace to seal it.
5. Once dry, cut the excess lace from the candle holder using scissors.
And, be sure to check out our other great crafts in our Craft Of The Day slideshow below.
PHOTO GALLERY
Craft Of The Day