Hello again, readers. This was an odd week here at HuffPost Arts; we spied a lot of things you definitely should not try at home. We saw artists eat film, freeze their own blood and take pictures that are definitely not safe for work. Read on for more details...
'Naked Before The Camera' Explores Nude Photography At The Metropolitan Museum Of Art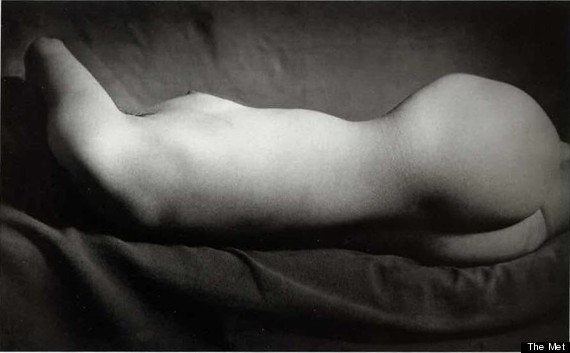 Brassai, Nude, 1931
A new exhibition at the Metropolitan Museum of Art, titled, "Naked Before the Camera" explores the erotic relationship between the camera and the body. The tryst spans from 1850 to modern day in Europe and the United States, with appearances by photography all-stars including Félix Nadar (aka Gaspard-Félix Tournachon), Eadweard Muybridge, Man Ray, Irving Penn and Robert Mapplethorpe. The exhibition, comprised of pieces from the museum's permanent collection, runs the gamut from scientific to surreal, exploitative to empowering.
Shepard Fairey Teams Up With Neil Young For 'Americana' Inspired Paintings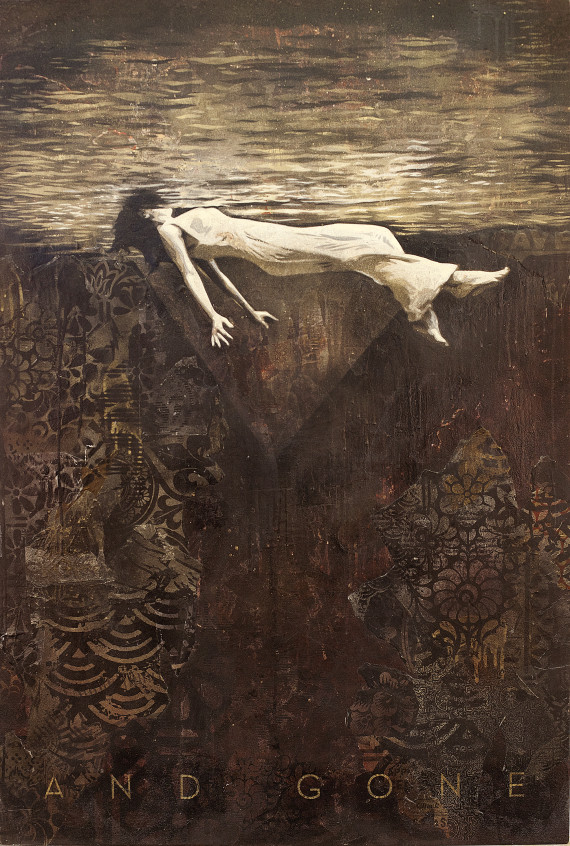 Shepard Fairey, "Clementine," 2012. Image courtesy of the artist and Perry Rubenstein Gallery, Los Angeles.
© Shepard Fairey/OBEY GIANT ART
Shepard's 11 works -- one for each song in Neil Young & Crazy Horse's latest album, titled "Americana," -- are made in his signature pop-patriotism aesthetic using stencil, collage and screen printing techniques. The images were shown for a private preview on June 2 at Perry Rubenstein Gallery in Los Angeles. The exhibition will be available to the public from June 28 to July 14.
Marc Quinn Is Interviewed About Self-Portraits Made Of His Own Blood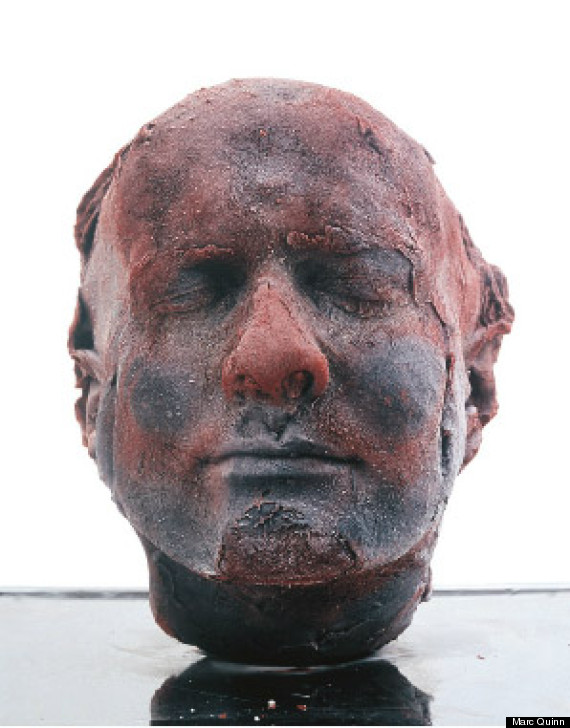 Marc Quinn, Self
Marc Quinn is perhaps not surprisingly a member of the controversial team of Young British Artists, alongside taxidermist par excellence Damien Hirst. According to Quinn's artist statement, he gravitates toward unconventional materials that address his "preoccupation with the mutability of the body and the dualisms that define human life." One of his blood busts was even purchased by mega-collector Charles Saatchi and another hangs in London's National Portrait Gallery. Although your first reaction to the concept might involve re-tasting your breakfast, deeper contemplation brings the complexities of the piece to light. What happens when a self portrait is not just of the artist but made of the artist? We asked Quinn some questions about his truly unorthodox endeavor.
Artists Luke Evans and Josh Lake Eat Film To Capture Their Insides' Images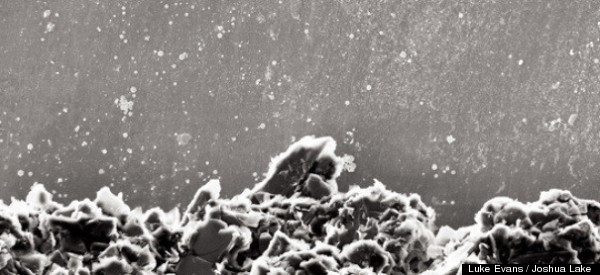 Kingston University students Luke Evans and Josh Lake recently made creative use of 35 mm film by swallowing it to see how their digestive systems process it. The piece, titled, "I Turn Myself Inside Out," began when the team put film strips inside a brightly-colored capsule (to avoid damage to their colons) and swallowed them. Since they are artists and not doctors, we're guessing they crossed their fingers and hoped for the best. Eventually they excreted the film (phew!), sorted out the tablets, used fixer on the film and scanned it with an electron microscope.
'Shitty Watercolour' Paints Reddit Users Photos With Ease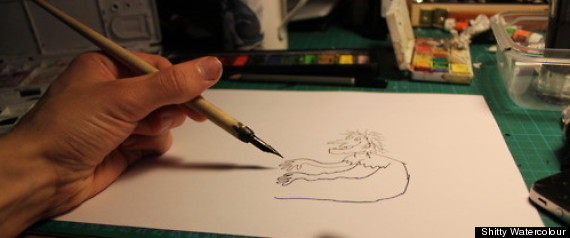 The young British gent known as "Shitty Watercolour" has an intensely loyal following on Reddit, though he often duels with a moderator known as karmanaut, who seems to want to discredit SW's hard work. The drama is catalogued here. Thankfully, SW has a friend in SeriousCritic, a Reddit user with a flair for grandiloquent prose and a keen eye for finding the most hilarious statements to use in art critiques. In an e-mail interview with The Huffington Post, SW claims to be an 18-year-old student living in England, though his fans believe him to be none other than the illustrator Quentin Blake.