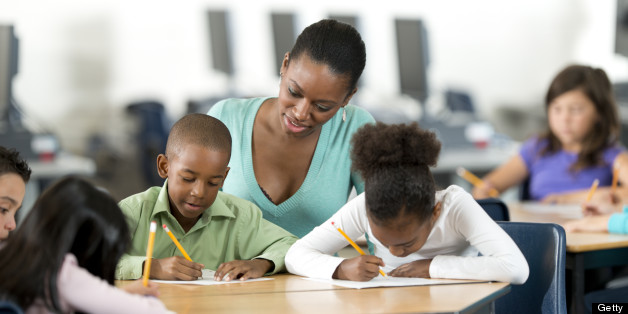 It's been the subject of much debate on how best to close the achievement gap between black youths and their peers, and a new study offers a fresh take -- are black students better off with black teachers?
According to Walter Hunt, a recent graduate from University of Houston's Executive Education Doctorate in Professional Leadership program and author of the study, they are not.
Hunt's research -- which examined eighth-graders and teacher diversity in 198 Title I Texas schools -- revealed that the achievement gap between African-American and Caucasian students was greater on campuses with a larger percentage of African-American teachers.
"At first glance, it would appear that teacher race doesn't matter when addressing student achievement of minority students, but there are many layers involved when analyzing achievement of a middle-school student, such as racial identity, self-identity, age, involvement in school activities," Hunt said in a University of Houston release. "In this particular study, I was surprised to see that the campuses with more African-American teachers did not have the highest African-American student achievement. This just goes to show that having a positive impact on students is a complex, multi-layered process," he added.
And while previous research has looked at the paucity of black teachers, others have found value in employing black and latino teachers to teach students of the same race.
"I know there's an added impact with shared background at an elementary school level," said David Nungaray a Teach for America teacher at San Antonio's Hispanic Bonham Academy, in an interview with The Huffington Post last year. "I talk about my family and my background. This is a going-back-to-my-roots experience -- I teach in a setting that reminds me of where I grew up. The impact I've had can be attributed to this shared background with my students," he said.
But black and latino teachers' ability to relate to students where other teachers can't hinges on all other factors being equal, The Huffington Post found, a condition that sheds light on other aspects of the achievement gap debate.
A 2011 report from Stanford University, for example, looked at the role that income plays, and found that the achievement gap between children from high and low income families far exceeded the achievement gap between black students and their white peers. They even went on to say that their findings were not confounded by race.
Both studies concluded that further research needs to be done.
For Hunt, next steps include a broader look at other middle school grades, as well as high school, social studies and science TAKS scores.
Clarification: The headline for this article has been amended to reflect that the study's findings were not entirely conclusive on the role that black teachers play in the education of black students.
BEFORE YOU GO