Guyliner, on the right guy, can do wonders for said gentleman's appearance. Just ask Adam Lambert, Johnny Depp or Jared Leto.
But as newly guylinered Tom Cruise told Ryan Seacrest this morning, wearing the makeup doesn't always have a happy ending.
In Cruise's new flick "Rock of Ages," an adaptation of the "Rock of Ages" musical, the actor plays Stacee Jaxx, an inked-up and heavily accessorized rocker. For the role, Cruise had to slip into some heavy-handed guyliner and enameled nails -- and his made-up appearance frightened one important potential fan: his six-year-old daughter Suri. As People reports:
"When I had the eyeliner and the painted nails, [Suri] was a little taken aback by it," Cruise told Ryan Seacrest on his KIIS-FM radio show Monday morning. "She was like, 'What's happening to my dad?' "

"I joke with friends because she goes to [mom Katie Holmes's] sets and there's hair and makeup and they're very nice," Cruise continues. "Suri comes to my sets and she's got to wear a hard helmet. There are explosions going off. Dad is bloody. He's bruised."
It's not that Suri is a stranger to makeup; she was recently spotted with her mom wearing red lipstick and a manicure. But apparently that doesn't mean she wants her pop to be stealing her look.
Check out Tom's "Rock of Ages" maquillage below -- are you scared?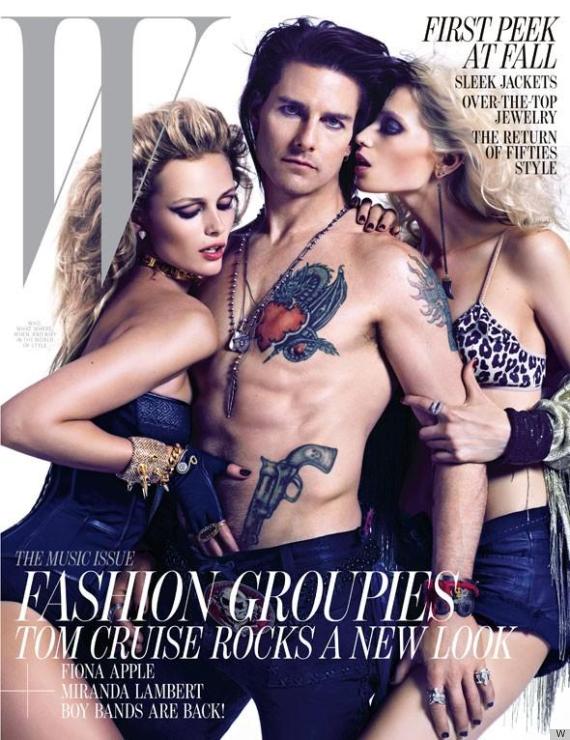 See some of our favorite Katie Holmes and Suri Cruise photos below!
PHOTO GALLERY
Suri Cruise & Mommy
Want more? Be sure to check out HuffPost Style on Twitter, Facebook, Tumblr and Pinterest.
BEFORE YOU GO