If David Shrigley were in your class he would not be the know-it-all who always raised his hand but the secret genius who carved a single phrase into his desk in absolute silence. The king of the "my five year old could do that" aesthetic, the artist makes deadpan jokes with humble yet biting wit. In a new exhibition titled, "Brain Activity," the artist's work will make the trip from London to San Francisco, landing at Yerba Buena Center for the Arts on June 22, 2012.
The artist is primarily loved for his drawings, and started out as a cartoonist for "The Guardian." Since then, he has developed one of the most recognizable handwritings of all time -- anxious, self-loathing yet snarky. You can almost picture a shaky little man muttering under his breath through the wiggly penmanship, can't you? Reading his jokes through the iconic font is like watching a movie where the narrator is always stuttering. Shrigley replaces the grand epiphany with the anti-climactic punchline, which is not to say people do not take them seriously; just look at all of the people who had his work tattooed on their tender flesh.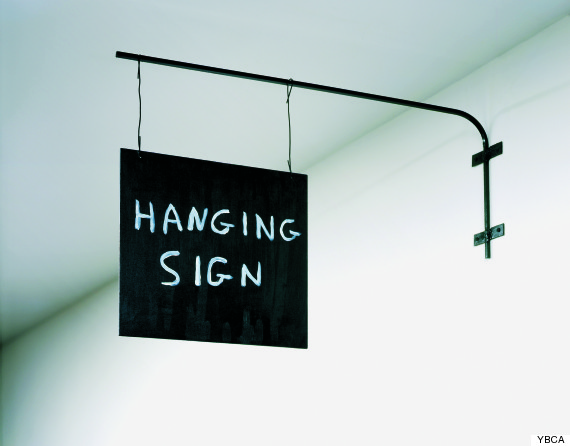 In his latest exhibition, Shrigley toys with the bizarre implications of a detached and mysterious voice, invisible yet so predictable. He explores voice through various banal objects as well, speaking through them like a surrealist puppet show. For example, the work "Hanging Sign" (above) is just that -- a hanging sign that simply reads "Hanging Sign" in simple white letters. If this doesn't elicit a weird little chortle, then there's no use looking at his other work. You're either with him or you're not.
A diverse array of sculptures shows Shrigley's range, both in terms of material and in his particular sense of humor. Some jokes point out the bizarre aspects of mundane life, some pose boring objects in surreal scenarios, others make preposterous demands, and others are visual puns. Perhaps the grand punchline to all the jokes is seeing all of the works in a gallery setting. These pieces compare the tension of "getting an artwork" to "getting a joke." He toys with the anxiety and acceptance associated with both fields while, of course, seeing if you get it in the end.
"Brain Activity" will show at the Yerba Buena Center for the Arts in San Francisco from June 22 until September 23. On June 22 David Shrigley will attend the opening party in person from 8-10 pm.
PHOTO GALLERY
David Shrigley
BEFORE YOU GO