Online shopping is often riddled with taxes and extraneous fees. This week Australian online retailer Kogan took things one step further by imposing an Internet Explorer 7 tax on customers who use the outdated browser, as pointed out by The Verge.
Shoppers who use Internet Explorer 7 to purchase items on the website are charged a 6.8 percent tax on top of their order total. To circumvent the extra fee, Kogan customers are encouraged to install a better browser, or upgrade to the latest version of Internet Explorer.
"The way we've been able to keep our prices so low is by using technology to make our business efficient and streamlined. One of the things stopping that is our web team having to spend a lot of time making our new website look normal on IE7," the tech supply company stated in blog post.
The 6.8 percent charge may seem arbitrary, but Kogan assures customers it's not. Kogan charges 0.1 percent for every month Internet Explorer 7 has been on the market, and will continue to raise the fee by 0.1 percent per month in the future.
While Kogan is primarily concerned with encouraging its users to update their web browsers, its IE7 tax is also part of a larger effort to do away with the outmoded browser all together.
"It's not only costing us a huge amount, it's affecting any business with an online presence, and costing the Internet economy millions," Kogan further wrote. "As Internet citizens, we all have a responsibility to make the Internet a better place. By taking these measures, we are doing our bit."
When Internet Explorer 7 users check out on Kogan's site, they are promoted with this screen: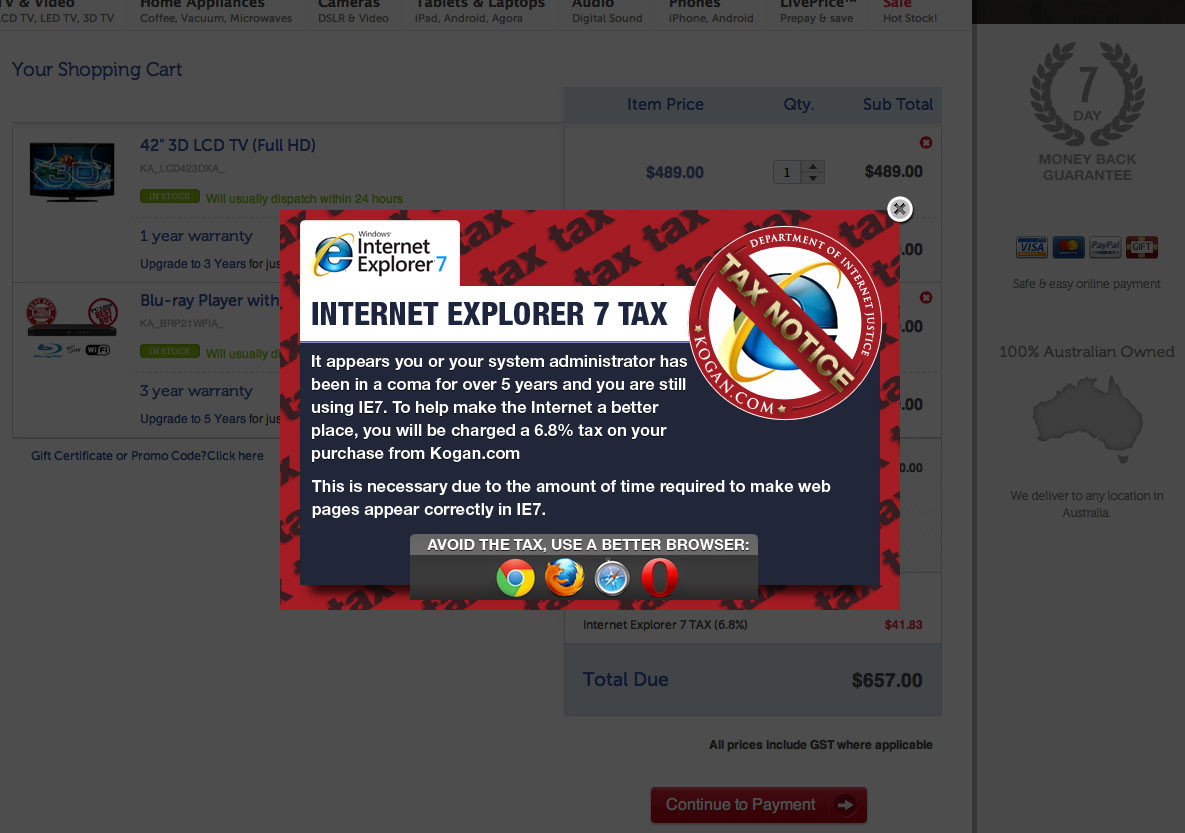 The message pokes fun at how archaic Internet Explorer 7 is -- Microsoft released the version in 2006 -- and pressures the shopper to "use a better browser," suggesting Chrome, Firefox, Safari or Opera.
As PCMag.com points out, Microsoft initiated its own efforts to push Internet Explorer users to update their browser. Last year, Microsoft unveiled The Internet Explorer 6 Countdown, a website that monitors worldwide IE6 use. Currently, 6.3 percent of the world still uses Internet Explorer 6.
A similar site called The Internet Explorer 7 Countdown cropped up as well; however, it is not associated with Microsoft.
We're not sure if anyone will go through the trouble of paying this tax in order to continue accessing Kogan's site on Internet Explorer 7, but the 6.8 percent fee certainly makes for a strong deterrent.
BEFORE YOU GO