If you're thinking of buying food blogger Alice Currah's new cookbook, "Savory Sweet Life," make sure you've got some free time ahead of you -- because once you see the luscious pictures inside, you'll want to get into the kitchen immediately. From street parties to snow days, Currah has lots of simple but sophisticated suggestions; her summer recipes are an extra-special treat. We've reproduced instructions for three seasonal treats, with her notes, below; they're sure to help you get the kids psyched for sunshine.
Recipes courtesy of Alice Currah. "Savory Sweet Life: 100 Simply Delicious Recipes For Every Family Occasion" is published by William Morrow.
Chocolate Cookies 'n' Cream Dairy-Free "Ice Cream"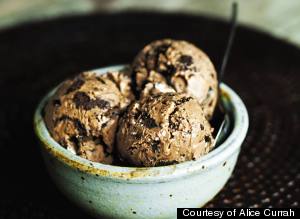 This is the best four-ingredient ice cream you will ever eat. Made with coconut milk, cocoa powder, sugar, and crushed Oreo cookies, it's so silky and creamy that you'd never guess it is dairy-free. I developed this recipe for Abigail, who is sensitive to dairy, so she could enjoy her favorite ice cream flavor without suffering the consequences later. The result is so amazing that it's become one of my favorite "ice creams" too!
Makes 1 Pint
One 14-ounce can coconut milk
1⁄3 cup granulated sugar
2 tablespoons
Unsweetened cocoa powder
10 Oreos, crushed
Combine the coconut milk, sugar, and cocoa powder in a blender and blend for 20 seconds. Pour the liquid into the bowl of an ice cream maker and churn according to the manufacturer's directions. In the last 5 minutes of churning, add the crushed Oreos. Transfer the ice cream to a plastic container, cover, and store in the freezer until ready to eat.
Note: Chaokoh brand coconut milk works best with this recipe because of its high fat content.
Just for fun: For mocha cookies 'n' cream ice cream, add a shot of cooled brewed espresso to the liquid mixture before churning it.
Fruit Salsa with Baked Cinnamon Chips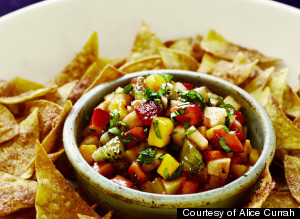 I love traditional salsa and tortilla chips for a savory snack, but this fruit salsa with cinnamon chips is a fun sweet alternative. Adding basil to the fruit may seem strange, but it actually complements the sweetness of the fruit and the cinnamon in the chips. It's just one of those things you have to try to believe it!
Makes 4 cups
Fruit Salsa
Juice of 1 lime
2 tablespoons granulated sugar
½ teaspoon ground cinnamon
4 fresh basil leaves, chopped
1 kiwi, peeled and cut into ¼-inch dice
1 crisp apple, peeled, cored, and cut into ¼-inch dice
1 cup strawberries, hulled and cut into ¼-inch dice
1 mango, peeled, pitted, and cut into ¼ - inch dice
Baked Cinnamon Chips
Eight 10-inch flour tortillas
Butter-flavored cooking spray
1 cup cinnamon sugar (scant 1 cup granulated sugar plus 2 tablespoons ground cinnamon)
1. To make the fruit salsa, whisk the lime juice, sugar, cinnamon, and basil together in a small bowl. In a large bowl, combine the kiwi, apple, strawberries, and mango. Pour the lime juice mixture over the fruit and mix gently. Transfer to a large serving bowl.
2. To make the cinnamon chips, preheat the oven to 350°F.
3. Coat each side of the tortillas with cooking spray. Make a single stack of the tortillas and slice through the stack to make 8 wedges from each tortilla. Working in batches, spread the tortilla wedges in a single layer on a large baking sheet. Sprinkle the wedges with cinnamon sugar, and spray them again with cooking spray. Bake for 8 to 10 minutes, until nice and crispy. Repeat to make the rest of the cinnamon chips. Allow the chips to cool for 15 minutes before serving.
Make-ahead tip: Store the chopped fruit in separate containers in the refrigerator until ready to serve. Prep the dressing and store until ready to use. Toss the salsa ingredients together right before serving.
Mango Frozen Yogurt Pops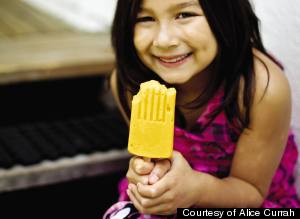 Inspired by mango lassi, a popular East Indian drink, these are one of my favorite treats to serve my kids. I get a sense of motherly satisfaction when I offer these all-natural, healthy, frozen yogurt pops to the kids and their friends. I love the combination of creamy yogurt and fruit and could eat several of these, one right after the other, without an ounce of guilt.
Makes 4 to 6 pops
Special equipment:
Ice-pop molds, wooden pop sticks
12 ounces fresh ripe or frozen mangoes, cut into chunks
1 cup orange juice
One 6-ounce container vanilla Greek yogurt
¾ cup granulated sugar
1. Combine all the ingredients in a blender, and blend until smooth. Pour the yogurt mixture into the ice-pop molds. Cover the opening of each mold with a small piece of foil, and insert a wooden pop stick halfway into each one. Freeze overnight.
2. To release a pop from the mold, carefully hold the pop in one hand while running warm water over the mold without getting water into the opening. With the other hand, gently pull the wooden stick away from the mold until the ice pop releases.
Variations: Frozen blueberries, strawberries, bananas, peaches, and raspberries can be substituted for the mango.