We often look to fashion magazines for survival tips: how to avoid getting trampled at sample sales, how to walk in 5-inch heels without killing ourselves, how to pronounce designer names without sounding like idiots... you know, the usual.
But Elle Italia is looking to give us some more literal survival skills, i.e. how to stay alive while stranded in the wild. What other explanation is there for strapping its latest cover model with a bowie knife?
Elsa Hosk poses for Elle Italia's July 2012 issue, which features a special section on summer styles for the beach (or, you know, George Clooney's Lake Como getaway). Hosk is wearing a seasonally-appropriate bikini top, athletic shorts and some arm cuffs so big we'd venture to call them tubes.
She's also got an intense-looking knife attached to her bicep, proving a threatening contrast to her pink hoodie.
One of the headlines teases a story about aggressive men, so perhaps Elsa's going for the intimidation factor. Or the knife might hint at the recent trend of violence-as-beauty seen in several other mags. Or maybe, just maybe, the latest accessory trend for summer is bowie knives.
We hope it's... well, none of the above.
PHOTO: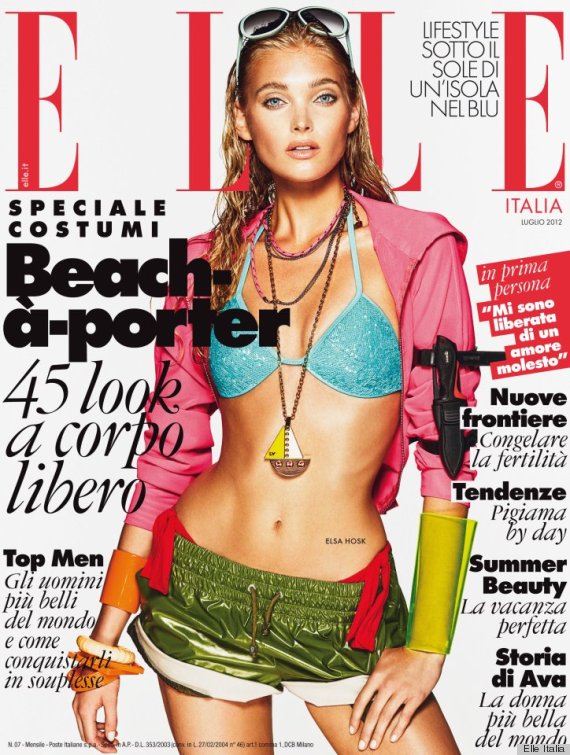 See more knife and gun-themed covers...
PHOTO GALLERY
Mag Covers Get Violent
Want more? Be sure to check out HuffPost Style on Twitter, Facebook, Tumblr and Pinterest.