On the heels of McCarren Park's much anticipated reopening scheduled for June 28, we've decided to take a look back at the pool's stint as one of the city's favorite summer concert venues in recent memory, as well as its nearly three decades of abandonment.
Originally built in 1936, the pool was closed in 1984, only to be reopened in 2005 as a concert space graced with effervescent pool parties and musical performances from Yo La Tengo, MIA, and Blonde Redhead to name a few.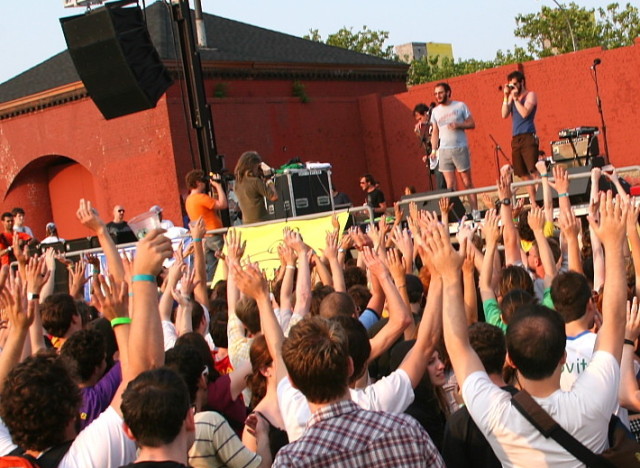 [Flickr: Mecredis]
After three years, the parks department put an end to the party with a $50 million plan to renovate the pool to, well, a swimmable pool and restore its historic bathhouse building and arch.
Part of the large-scale project involved remodeling the pool's 28 years of decay. Since 1984, the space has been an eyesore with peeling paint and overgrown weeds. Photographer Gina Pollack captured the pool's 28 years of abandonment in a photo series titled "Where They Swam." Pollack explains:
Now, in the Summer of 2012, the space will re-open with a fresh coat of aquamarine, decay paved over, inhabited by a new group of residents, the memories of those who once spent their summers in its water mere reflections in its polished surface. The series deals with the cycle of urban space and the passage of time- how we create, inhabit, abandon, and eventually come back to this place.
PHOTO GALLERY
McCarren Park Pool: 'Where They Swam'
Fast forward to 2012, the renovated pool will be able to accommodate 1,500 swimmers and a brand new recreation center outfitted with a community gym, weight room, and sports facilities.
If you'd like a sneak peak at the pool, the Open Space Alliance is hosting a fundraiser to raise money for McCarren Park's maintenance on June 27, the night before the pool's official opening. Tickets are $150 and include cocktails, dinner, and entertainment.
A rendering of the new pool below:
BEFORE YOU GO