Like most of 21st century society, we love our cell phones. It's kind of hard not to become attached when they keep us connected to our jobs, friends and families. So we think this Craft Of The Day is pretty fitting. This dainty felt phone case is not only pretty, but it will also protect your phone from scratches when dropped…so it's really a win-win. Ready to make this crafty case? Keep reading for the how-to.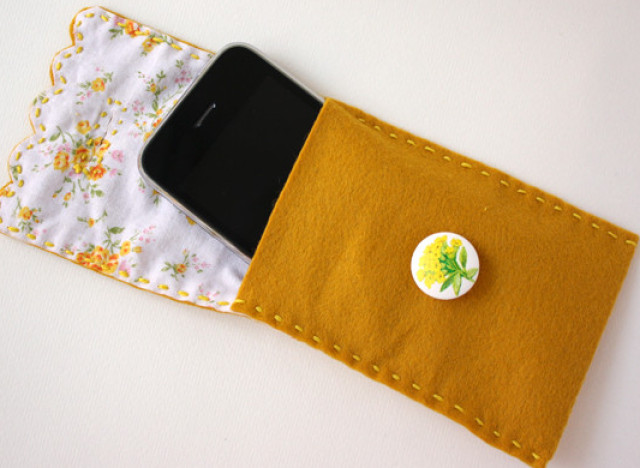 Photo by Janee Lookerse from Yellow Bird Yellow Beard.

You'll Need:
Felt
Scissors
Embroidery needle
Embroidery thread
Scrap of pretty fabric (like a floral pattern)
Small button
How to Make It:
1. Using scissors, cut out a piece of felt that is as wide as your cell phone and 2 and 3/4 times as long.
2. Cut a small piece of floral fabric for the inside flap of the case, about as long as 3/4 of your cell phone.
3. Draw a scallop pattern on the edge of what will be the top flap of felt and the floral fabric piece and cut it out.
4. Layer the floral fabric on top of the felt and fold the excess felt over, so that the pretty fabric will be on the inside of the overhanging flap.
4. Using a running stitch, sew the felt together around the edges (creating the pouch) and continue stitching where the flap will show with the floral fabric.
5. Mark the area where you will sew the button on to the front of the pouch, and then cut a slit in the flap in the corresponding spot for the button to fit through.
6. After making sure the spots align, sew your button on and you're all done!
And, be sure to check out our other great crafts in our Craft Of The Day slideshow below.
PHOTO GALLERY
Craft Of The Day