Call it Coachella for the rest of us.
Organizers for the FYF Fest, a two-day summer music festival near downtown Los Angeles, released the official 2012 lineup Monday. And because tickets for the entire weekend cost a mere $77 (when compared to Coachella's $349) for indie bands like Refused, M83 and Beirut, they're sure to sell out soon as they go on sale Friday, Jun. 22.
Concert-goers will see over two dozen acts -- from folk to electro -- throughout the two-day festival, which takes place Sept. 1 and 2 in Los Angeles State Historic Park.
Check out the 2012 lineup in an easily searchable format, or scroll down for a look at the official lineup poster:
Refused, M83, Beirut, James Blake, Quicksand, Yeasayer, Sleigh Bells, Desaparecidos, Simian Mobile Disco (Live), American Nightmare, Dinosaur Jr., Against Me!, Turbonegro, The Growlers, Warpaint, Wild Flag, Hot Snakes, Paul Banks, Twin Shadow, Cursive, Liars, Converge, Black Mountain, Tanlines, Health, Chromatics, Lightning Bolt, The Vaselines, Fucked Up, King Khan and the Shines, Future Islands, The Pains of Being Pure at Heart, Tycho, Purity Ring, Baroness, Gold Panda, Aesop Rock, Chairlift, Atlas Sound, Givers, Black Dice, Cloud Nothings, Two Gallants, Redd Kross, The Field, AA Bondy, Ceremony, Moonface, Father John Misty, DJ Harvey, Tiger & Woods, Dam Funk, Wild Nothing, Nick Waterhouse, The Men, The Soft Pack, The Allah Las, Nite Jewel, Joyce Manor, White Fence, I Break Horses, John Maus, FIDLAR, Sandro Perri, Doldrums, The Suicide of Western Culture, DJ Coco (Primavera Sound), Daughn Gibson, Devin, Papa, White Arrows, Kishi Bashi. The festival will also feature stand up comedy acts.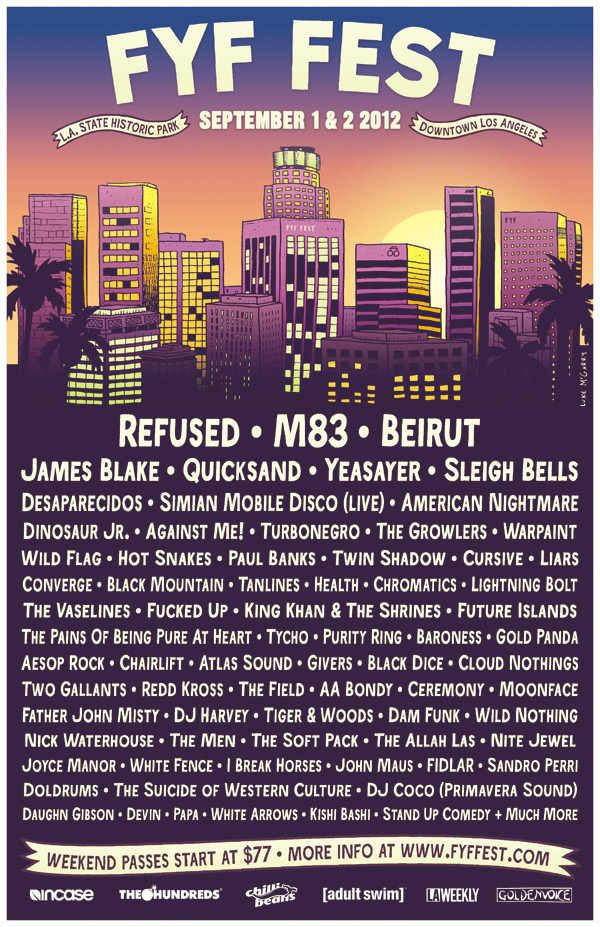 Get a preview of the best acts of FYF 2012.
PHOTO GALLERY
FYF 2012 Picks