A massive Mickey Mouse did a face-plant on the surface of Mercury--or so it seems in a photo snapped recently by NASA's Messenger orbiter.
Was Mickey really on Mercury? Actually, the familiar face is simply a pattern of craters in Mercury's southern hemisphere--northwest of another known crater named Magritte. The crater resembling Mickey's head measures about 65 miles (105 kilometers) across, according to MSNBC.
"The shadowing helps define the striking 'Mickey Mouse' resemblance, created by the accumulation of craters over Mercury's long geologic history," NASA officials said about the photo on the space agency's website.
Messenger became the first spacecraft to orbit Mercury on March 18, 2011. While observing the planet, officials have been counting Mercury's craters--and there are quite a few.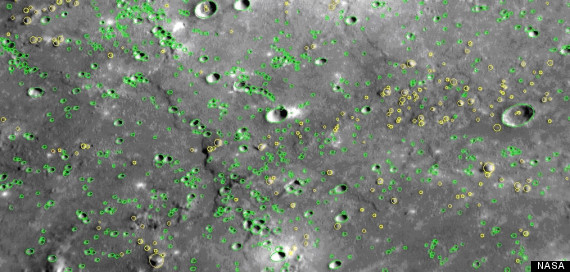 On January 14, 2008, Messenger flew by Mercury and snapped images of a large portion of the surface that had not been previously seen by spacecraft.
Of course, Mercury isn't the only heavily pock-marked planet in our solar system. Mars has a whopping 635,000 craters, astronomers say.
Earth? Our home planet has only about 200 known impact craters.
BEFORE YOU GO
PHOTO GALLERY
This Week In Science History, June 18-24