If you've been searching for a unique accessory to add a little something to your living room, this Craft Of The Day will do the trick. These silhouette pillows from U Create Crafts are a fun way to personalize your space. And don't worry if you're not the "artsy" type -- because you start with a picture of a loved one, this project involves little more than tracing and cutting. Ready to create this one-of-a-kind room accent? Keep reading for the how-to.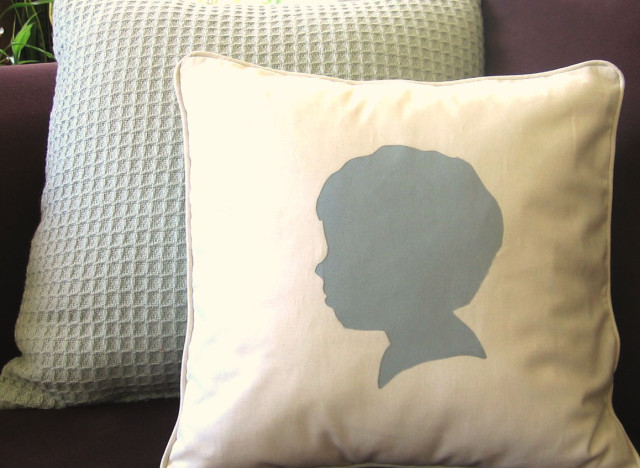 Photo by Jill from Homemade By Jill.
You'll Need:
5x7 photo of a loved one, in profile
Black sharpie
Plain paper
Freezer paper
Scotch tape
Fabric or acrylic paint
Soild-colored pillow
Stencil Brush
Exacto knife
How to Make It:
1. Make a copy of the photo you'd like to use. Then, carefully cut the silhouette from the copied picture.
2. Lay the silhouette on top of the freezer paper and tape it down to secure it. Using an exacto knife, cut along the outline, so that you are left with a hole in the shape of the silhouette. (This is now your stencil).
3. With the waxy side of the stencil down, iron it onto the front of the pillow.
4. Using a stencil brush, dab on a thin coat of paint over your stencil. Allow it to dry and repeat until you get a uniform image.
5. Once the paint is completely dry, peel off the stencil. Heat set your paint according to the instructions on the package. (One way is to lay a piece of fabric over the painted image and apply a hot iron for 30 seconds).
And, be sure to check out our other great crafts in our Craft Of The Day slideshow below.
PHOTO GALLERY
Craft Of The Day