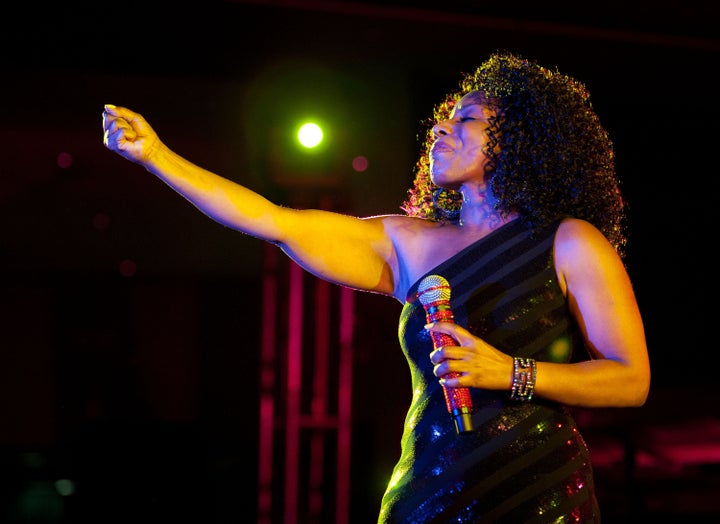 During an exclusive, candid interview with The Huffington Post, the Brooklyn-bred Grammy Award-winner opened up on an array of topics, including her thoughts on veteran artists starving for attention, recording a tribute album, and the idea of forming a super group with other sisters with voices.
In light of your recent shows, what is it that makes you still connect with fans while not releasing any new material?
I think because I keep it very real with them and I try to sing my songs exactly the same way that I record them. I start singing months ahead of when I'm getting ready to tour. But when I vocalize, I vocalize to Aretha [Franklin]. I don't vocalize to any of my songs until the last couple of weeks of me getting ready to go out. But I get myself ready vocally by singing all of her songs.
Is that something that you always did throughout your career?
It wasn't always Aretha, but I would always sing either Diana Ross, Whitney Houston or Barbra Streisand. I would sing other people's songs that I was really a fan of when I wanted to get ready for my shows, because I'm such a fan of theirs. I listen to all of the women in the industry.
It has influenced me in every way. Even before coming into the industry I was a big fan of Motown, the Jackson 5, Gladys Knight, the Temptations, Diana Ross and The Supremes. So it has definitely influenced my life just tremendously and still does till this day. I listen to Jay-Z, Nelly, Nas, Ludacris and all the young kids out there. I listen to them and I have mad respect for them.
Would you ever collaborate with any of them?
Oh, I would love to. I don't know if they would do a collaboration with me, but I would love to. I would love to do a collaboration with Lil' Wayne. I would have loved to sing on his song, "How To Love." I wanted to do the remix to that song really bad.
I found that song disrespectful. I just don't think you have to go that far to get attention. And I think sometimes the older artists -- because he is older now -- the older artists are so starved for attention that they'll just about do anything. And I come from the school of when they taught you how to sit and do interviews and taught you how to walk into a room. There was so much training during the time that I came through that we would never think of doing anything like that. So I think it took away from all of the classiness and the great stuff that he has done before.
It's just like when Erykah Badu took off all of her clothes. I was like, "It's just so unnecessary to do that!" I love Erykah Badu, but I think sometimes they want to do the shock value thing, but I don't think it always works for black artists the way that it works for white artists.
What do you think is the cause of that dynamic shifting since you entered the industry?
I have mad love for the way we were taught and trained back in the day. I mean those of us -- like Chaka Khan, Patti LaBelle, Gladys Knight -- we didn't give into this new wave of celebrity. And it's kind of disturbing, because nowadays when I see someone do a reality show I think that this is their last chance to get out there to become whatever. I think there's something wrong or they're going through something. Even though I must admit I watch some of them, but there are others that I can't watch because I think it's just so disrespectful.
I'm glad I came through when I came through. Today, people will do anything to get fame and they're giving them a lot of fame. Everyone wants to be a celebrity or be on the red carpet.
Are there any artists that come to mind that haven't given way?
New Edition was at Essence Music Festival last year and they kept it so classy. They have not given way to this madness. They have still kept their classiness and I was such a fan. We were like groupies for New Edition at the Essence Music Fest [laughs].
If you had to pick any three vocalists (past or present) to form a group, who would they be, and why?
It would be me, Chaka [Khan], Anita [Baker] and Mary [J Blige]. I think that our voices would lend to each other -- we're different. And it would be fun. I always imagined in my head that we would sing a Destiny's Child song, their song, "Girl." And I'm a fan of Chaka's and a fan of Anita's and a fan of Mary's. We get along, we like each other and I think we could really do something cute together.
Can fans expect you to revisit your gospel roots, similar to your 1995 album Personal Inspirations?
Oh, yes I do plan to that. I'm working on some new music and I'm writing. But I go back and forth because I want to do a tribute album to all my friends that I've lost. These last couple of years have been really, really rough on me with losing Teddy [Pendergrass] and Gerald Levert -- all people that I was working with. And the death of Whitney Houston just hit me hard because I was such a fan. We weren't friends personally -- I didn't know her on a personal level, just in passing. But I was such a fan and I loved her dearly. To lose her and Michael [Jackson] the way that we did, it's been hard. And then Teena Marie and now Donna Summer. It's been frightening.
Do you have a tentative date on releasing any of the material from your forthcoming project?
I would say before the year is out that I should at least have a single out. We're working doing some different things and we keep going back and forth with what we actually want to do. But I would hope at least by the fall that I should have something new out, hopefully.
BEFORE YOU GO
PHOTO GALLERY
Iconic Album Covers