Fresh from the jaw-dropping department, we present a fashion accessory that costs as much as a well appointed mid-size car.
The object in question: a metallic leather collar smothered in 40 carats of black diamonds, centered around a 22.33 carat emerald. Retail price: $37,500.
The designer, Karl Lagerfeld, promises "a percentage of profits" from the eye-popping price tag will be donated to a children's cancer charity. The collar's buyer will also receive Lagerfeld's original design sketch.
In a statement to Vogue, Lagerfeld explains: "I'm renowned for my love of a high collar and I wanted to create a true collector's item with this one-off piece ... Merging the masculine with the feminine and uniting the world of fine jewellery and high fashion, to me this collar is a work of art and a real show-stopper."
Should you have interest in viewing the collar in person, Fashionologie reports it will be on display from June 28 through July 4 at Masterpiece London's diamond exhibition, "Brilliant."
PHOTO of Lagerfeld's $37,500 collar: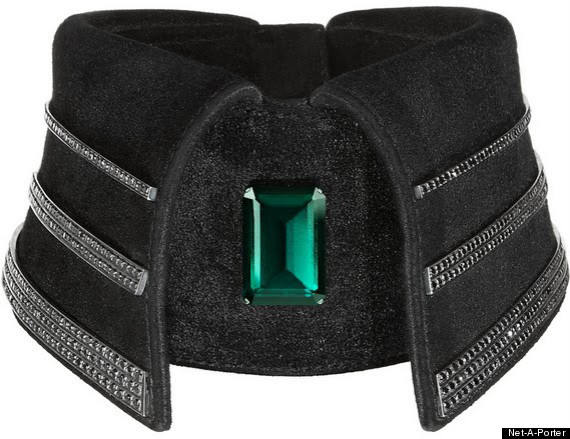 Karl makes some wild comments... here are just a few:
BEFORE YOU GO