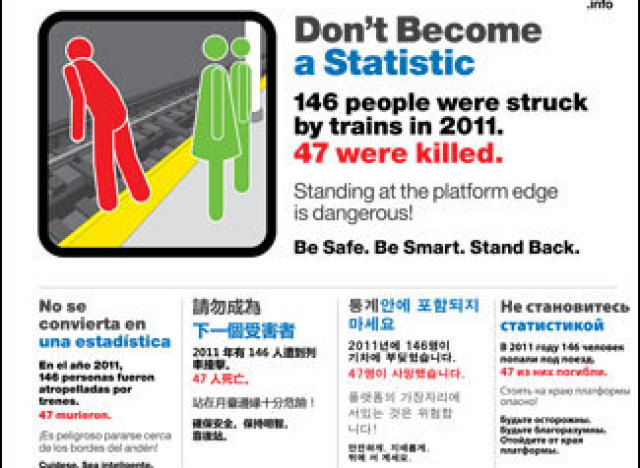 In light of recent subway fatalities, including four unrelated deaths experienced in a single weekend in January, the MTA has launched "Be Safe. Be Smart" to provide to straphangers with information on how to avoid becoming a statistic.
The program features posters to provide a visual campaign to remind New Yorkers the perils of standing too close to the tracks. The initiative to raise safety public awareness has already started appearing in subway cars this week.
On Thursday, Cheryl Kennedy, vice president for system safety at New York Transit said, "Venturing onto the subway tracks is the most dangerous thing a customer can do, so this is an issue that we take extremely seriously."
A recent report found 147 passengers were hit by subway trains in 2011 alone, up 15 percent from 2010.
The MTA has considered installing sliding glass doors at platform edges to help prevent such incidents, but MTA Chief Jay Lhota has hinted that the cash-strapped agency probably won't be able to afford the installation any time soon.
The new colorful designs will be translated in five languages including English, Spanish, Chinese, Korean and Russian.