Most bathroom graffiti isn't exactly newsworthy. But then again, most bathroom graffiti wasn't done by Banksy.
A new wall scrawling discovered in Oakland may or may not be the work of the world's most famous street artist. In fact, staying true to the anarchic spirit of the famously anonymous Brit, the piece's dubious authorship is precisely the point.
(SCROLL DOWN FOR PHOTOS)
On Thursday, Tublr photoblog HellaBay posted a shot of a spray painted piece of Oakland graffiti reading, "Not every piece of street art is Banksy' -Banksy." (Hat tip to our friend KevMo over at Uptown Almanac.)
The aesthetic isn't exactly Banksy's style, and the whole underlying message of the piece is effectively urging people to broaden their artistic horizons outside the street art movement's singular figure--possibly even outside the small circle of artists featured in the Academy Award-nominated documentary directed by Banksy.
But on the other hand, hey...look over there! It's totally a Banksy!
Even if this isn't the work of the world's preeminent globe-trotting street artist, it would just be one part of a long line of piggy-backing off his pieces. There's photographer Nick Stern, whose "You Are Not Banksy" series recreated some of the artist's stencils using flesh-and-blood models. And who can forget Hanksy, an artist known for putting the face of actor Tom Hanks on copies of Banksy's most famous works.
Stuff White People Like mastermind Christian Lander pithily explains Banksy's appeal:
Currently, the artist who is both cutting edge and easy to keep up with is Banksy, and white people love him. He is anonymous, British, easy to understand, and he works in the medium of graffiti! This last bit is very important since all white people consider graffiti to be art when it looks like something other than a bunch of squiggles. In every other instance, they consider it vandalism.
Take a look at the graffiti in question below. Then check out our slideshow showing some of Banksy's other works in the Bay Area: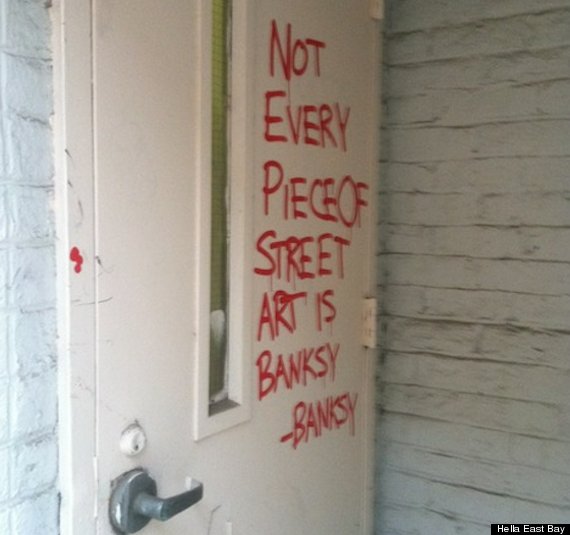 BEFORE YOU GO
PHOTO GALLERY
Bay Area Banksy