When we see a beautiful (but expensive) home accessory, we always try to see if there's a DIY way to get the same look for less. So, when we came across this stunning DIY wooden sunburst mirror from The Crafting Chicks and realized it is definitely achievable (and inexpensive), we were excited! The whole project costs under $25 and this mirror is definitely one of those, "it looks more complicated than it is," kind of projects. (Our favorite). Keep reading for the how-to.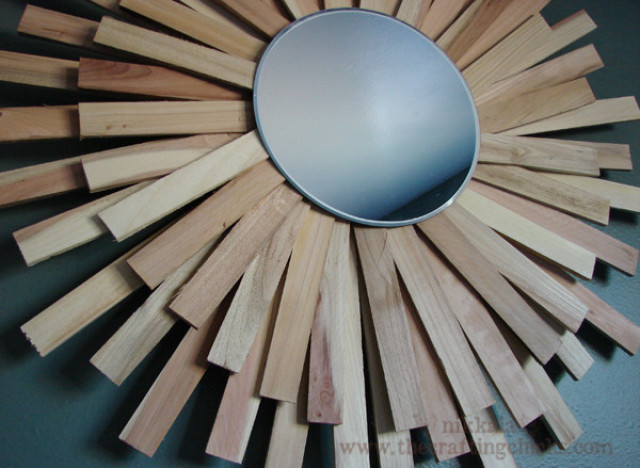 Photo by Nikkala from The Crafting Chicks.
You'll Need:
Glue gun
10" round mirror
Foam or cardboard circle, approximately the same size as the mirror
Gorilla glue
About 60 wood shims of slightly different lengths
First, using a glue gun, carefully glue the longest wood shims around the foam circle, so the ends meet in the middle. (These will be the outer rays). Then, add the next layer, placing them so they fill in the spaces between the outer shims, giving the rays a layered effect. Finally, add the the third layer, using the shorter shims. After that, glue the mirror to the center using Gorilla Glue. Finally, gently place a heavy object on top of the mirror while the glue dries so that it will strongly adhere to the shims.
For the full tutorial, head over to The Crafting Chicks.
Have something to say? Be sure to check out Stylelist Home on Twitter, Facebook and Pinterest.