Before Judd Apatow was a hero to aspiring filmmakers looking to break into comedy, he was just a kid who wrote a letter to his own comedic hero, Steve Martin. And to Apatow's surprise, Martin responded.
"A wonderful, kind letter I received as a small child from @SteveMartinToGo," Apatow recently tweeted. The following photo -- of the letter Martin wrote to a young Apatow -- was attached to the tweet: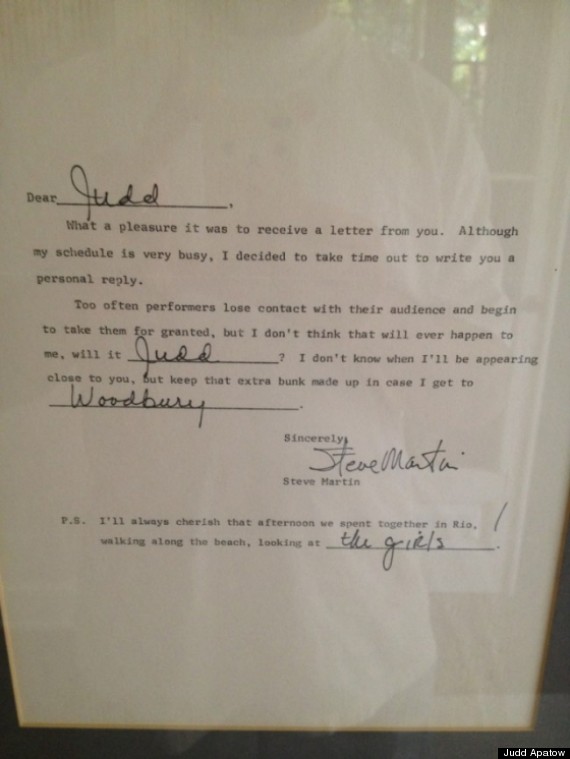 Apatow would eventually meet his idol face-to-face, but it wasn't exactly the dream moment Apatow was expecting. In 2009, the "Knocked Up" filmmaker revealed that while on vacation in California as a boy, he spotted Martin washing his car in front of his home. According to Apatow's story, he jumped out of the car and asked for Martin's autograph, but the actor said he didn't give autographs at his home. "Please, we won't tell anyone," Apatow begged. Martin's reply? "No."
So young Apatow went home and wrote Martin a nasty letter (profanity included). Three months later, he received a package from Martin that contained a copy of his book Cruel Shoes.
"I'm sorry," Martin's note read. "I didn't realize I was speaking to THE Judd Apatow."
THE Judd Apatow's next project, "This is 40," is slated for a December 2012 release.
BEFORE YOU GO