Prepare your pots and pans (again)!
The Miami Heat victory parade will take place Monday morning at 11 a.m., city officials announced. The route will take MVP LeBron James and the 2012 NBA champs east on Calle Ocho from Second Avenue, north on Brickell Avenue, and up Biscayne Boulevard to American Airlines Arena. (Story continues below.)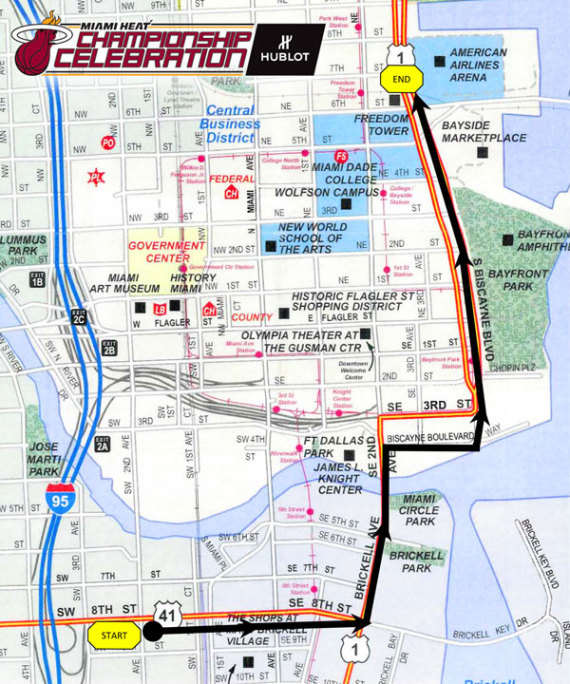 According to the Miami Parking Authority, city parking will be available along the parade route at the following locations starting Monday at 7 a.m.:
- Along Biscayne Boulevard between NE 1st and NE 4th Streets, Lot 19 ($20)
- Chopin Plaza by the Hotel Intercontinental Miami, Lot 20 ($20)
- Old Port Boulevard adjacent to the north side of Bayside Marketplace, Lot 301 ($20)
- Arsht Center off NE 13th Street and 2nd Avenue, Lot C ($20)
- College Station Garage off NE 3rd Street and 2nd Avenue, Garage 3 ($15)
This being the City of Miami, the availability comes with a catch:
Sigh.
Unfortunately, the parade route also means no City of Miami trolley service along Brickell-Biscayne from Coral Way to NE 14th Street from 10:30 a.m. to 1 p.m. [View a map of the re-routed trolley service for Monday.]
Transit officials have announced Metrorail trains will run every 15 minutes, supplemented with additional trains to help ease travel to the parade; Metromover will be running frequent service with 2-car trains on the Inner, Brickell and Omni loops.
One faregate at the following stations will be designated from 8 a.m. to 11 p.m. as an 'express pay' lane where riders can drop $2 in a cash box (exact fare required) to pay for a one-way trip on Metrorail without having to use an EASY Card or EASY Ticket:
- Dadeland South
- Dadeland North
- South Miami
- Tri-Rail (Transfer Station)
- Hialeah
- Okeechobee
An 'express pay' lane will be available for return trips from the Brickell and Government Center stations from 11:30 a.m. to 2:30 p.m.
Parade access can be gained at the Brickell, 8th Street, 5th Street, Bayfront Park, and College/Bayside stops.
The big bash is second such parade in Miami Heat history. The franchise won its first NBA title in 1996 with current Heat players Dwyane Wade and Udonis Haslem, and it's only just now that we're finally able to stomach watching Pat Riley dancing again:
This is a developing story; it will be updated as additional details become available.