For America's poor, the decision to forego college won't kill all chance of moving up the economic ladder. It just severely worsens the odds.
Indeed, for those born into the poorest fifth of American families, the obtainment of a college degree gives you an 80 percent chance of bettering your economic status over the course of a lifetime. Opt not to graduate college, and those odds drop to 55 percent, according to a new U.S. Treasury Department report "The Economic Case for Higher Education" (h/t The New York Times).
See the chart on intergenerational mobility below: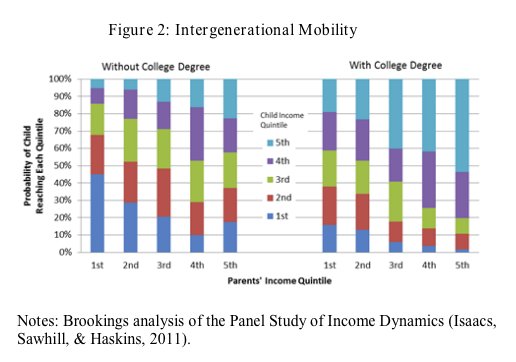 The weekly earnings of people with a bachelors degree are an average of 64 percent higher than those workers with only a high school diploma, the report also found. Likewise, unemployment rates are significantly higher among those without a college degree.
The report isn't the only one to show the economic benefits of a college education. Those with a bachelors degree earn about $1 million more over their lifetimes than those without one, according to a recent Georgetown study. Currently, the median salary for college graduates is $42,000, compared to just $26,364 for all Americans in 2010, according to the National Association of Colleges and Employers, WZZM reports.
But these days a college degree is no guarantee of economic prosperity, especially among the nation's youngest. The Great Recession has taken a significant toll on college graduates, increasing youth unemployment substantially. Of all those graduating since 2006, only 51 percent have a full-time job, according to a Rutgers University study. Furthermore, college graduates and non-graduates alike are equally susceptible to long-term joblessness once unemployed.
BEFORE YOU GO
PHOTO GALLERY
Well-Paying Jobs That Don't Always Require A College Degree