We already know that it took a full-term pregnancy to tear Jessica Simpson away from her beloved towering stilettos, so we couldn't help but wonder if motherhood would cause the bombshell to cool it on her oft-showcased cleavage. But in one twit pic, Simpson managed to let us know that she has no intention of going the conservative mother route.
Although the media has been scrutinizing her post-baby body, the new mom tweeted a picture of herself taking daughter Maxwell for a spin around the block on Friday. Jessica must have been feeling particularly confident in her gym clothes and shades that day, because she had no problem showing off a very, er, generous amount of cleavage.
Even Jess herself wasn't so sure if showing that much skin was appropriate, asking her followers if the look was "street legal." So what's the verdict: acceptable bust or cleavage overload?
Check out the photo below and tell us if you think Jessica Simpson's look is mom-approved.
PHOTO:
Just taking a walk around the block... Street legal???lockerz.com/s/219260220

— Jessica Simpson (@JessicaSimpson) June 23, 2012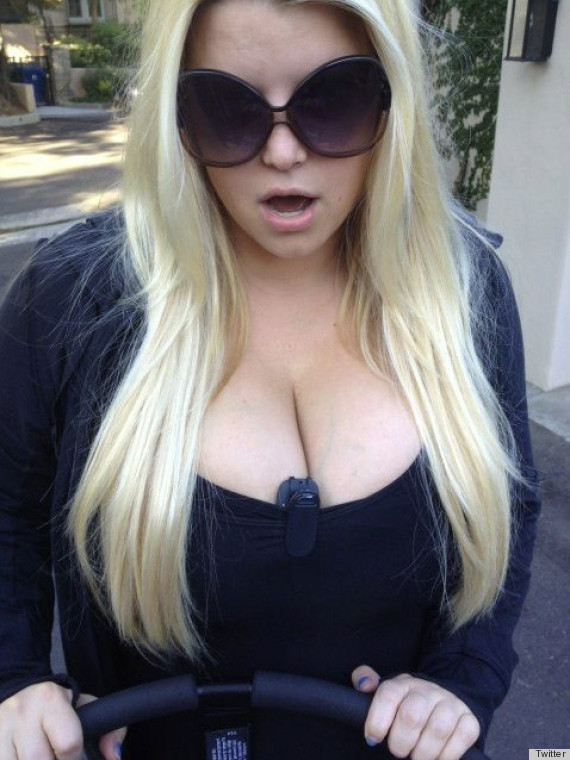 See Jessica Simpson's maternity style!
PHOTO GALLERY
Jessica Simpson's Maternity Style
Want more? Be sure to check out HuffPost Style on Twitter, Facebook, Tumblr and Pinterest.
BEFORE YOU GO