There's nothing like winning a championship in a town known for partying (and corruption and narcotics, but mostly partying). Just ask the Dallas Mavericks: Miami's never met an excuse for revelry it didn't immediately accept.
We also like cake, so it follows that as the Miami Heat's Dwyane Wade, LeBron James, and Chris Bosh continued celebrating Thursday's NBA championship at South Beach club Bamboo Saturday night, their show-off dessert had a 3-day head start in the growth department: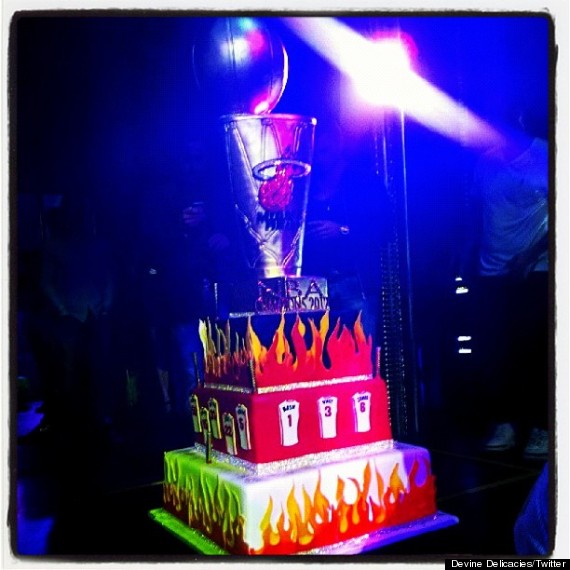 Yep, that is one massive cake. Not only was the 5-foot Divine Delicacies confection topped with a massive replica of the Larry O'Brien trophy, but it also featured the jerseys and names of all Heat players on one of its 4 lower layers.
(View close-up photos of the creation at WorldRedEye, and get this: the cake was actually Divine Delicacies' 2nd NBA championship creation of the weekend).
"This is like our 5th championship party," Wade told the crowd. "And it's only been 3 days!"
But does anyone actually eat cake in the club? Not that we can tell. The Heat's Big 3 hit Bamboo just before 2 a.m. with the likes of Gabrielle Union and Tracee Ellis Ross on board, and from the video above it looks like cigars, dancing, and finger #1s were the menu the night, bro.