Playboy isn't exactly known for promoting positive body image for women. But we decided to reexamine the magazine's track record with the release of Jenny McCarthy's new Playboy spread, her seventh for the magazine.
In a sneak peek to People, McCarthy said of her nude photo shoot:
"The one thing I like about Playboy is they don't have the anorexic look... The women are voluptuous. So I didn't really want to diet. I just wanted to tone up."
Which made us wonder how Playboy fits into the magazine landscape. Do Playboy models present a more realistic body image than your average fashion mag model?
It's a tough notion to wrap our minds around, namely because Playboy and publications like it have long been the target of feminist critiques (particularly during the the feminist antipornography movement of the '70s).
Aside from the problematic nature of pornography itself, Playboy's critics have taken issue with its representation of the female body. Academic studies like "Cultural Representations of Thinness in Women, Redux: Playboy Magazine's Depiction of Beauty from 1979 to 1999" and "Thinness and Body Shape of Playboy Centerfolds from 1978 to 1998" found that, unsurprisingly, Playboy models are thinner than the average American woman.
Just last year, a group of British feminists called "the Muffia" accused Playboy of promoting women's body hatred through unrealistic depictions of the female form. And like most magazines, Playboy has made frequent use of that insidious body-morphing tool, Photoshop, which has been shown to promote unrealistic expectations of healthy body image and drive women to potentially harmful behaviors.
With all that being true, Playboy may be providing some of the healthier representations of the female body in today's media. The mag's first centerfold model, after all, was Marilyn Monroe; the magazine has included similarly shapely women in its pages for decades. In fact one academic study found that models featured in Playboy have been getting relatively heavier, not thinner, in recent years.
How do Playboy models compare to, say, Vogue or W's glamour girls? Is the famous men's magazine presenting a healthy alternative to the "anorexic look" that dominates today's magazine stands?
Check out Jenny's new cover and tell us in what you think in the comments.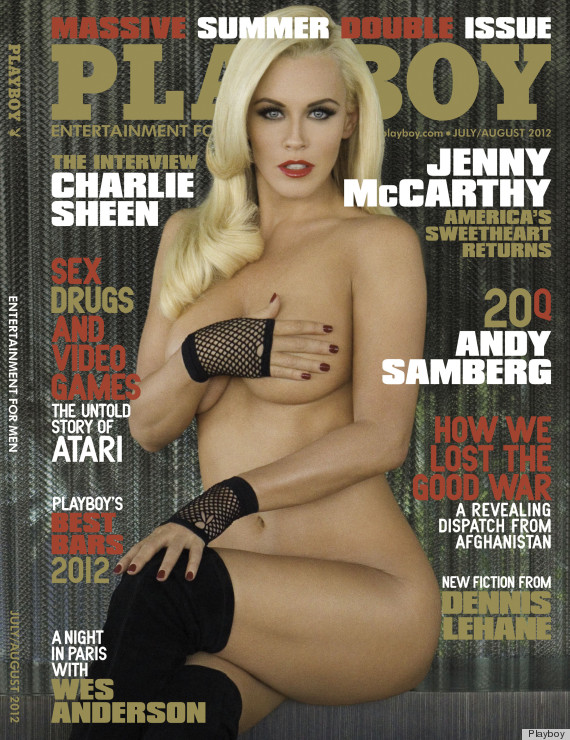 See more stars who've posed for Playboy:
PHOTO GALLERY
Celebrity Playboy Covers
Want more? Be sure to check out HuffPost Style on Twitter, Facebook, Tumblr and Pinterest.