A 450-pound homeless woman is making waves after being spotted all over Fort Lauderdale, sitting naked on local bus stops.
In the most recent incident Fort Lauderdale Police arrested 52-year-old Patricia McCollum last Wednesday and charged her with exposure of sexual organs in public after she was found naked on a bus bench at 3900 N. Ocean Boulevard, reports the Sun Sentinel.
After the Miami face-mauling attack and subsequent news stories where alleged bath salts users get naked before lashing out violently with their teeth, passersby now view unabashed nudity as a first sign that something more sinister is going on.
But McCollum holds that her nakedness is just a byproduct of living on the streets. In court last Thursday, she stated "That's why I was changing my clothes on the bus bench. I don't have anywhere else to stay but bus benches."
Although it certainly seems like McCollum has a certain proclivity for exhibitionism on bus benches. Shots of her in her birthday suit have been passed around social media.
In a June 15 post on Facebook, a woman who may be McCollum was photographed in the nude on a Fort Lauderdale bus bench at 9 a.m. holding an umbrella over her head to shield herself from the sun.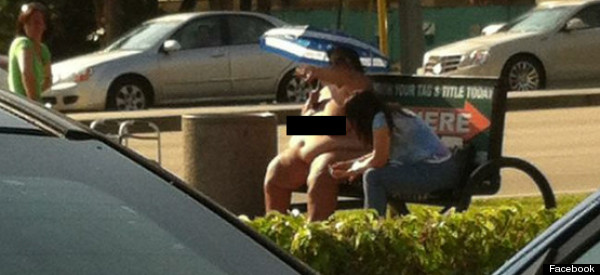 Commenters noted that they had seen McCollum all around town -- from Hollywood to Federal Road and Oakland Boulevard -- sometimes sporting yellow socks and nothing else.
She is currently being held on $100 bond.
BEFORE YOU GO