Lately we've been seeing beautiful, intricate mosaics popping up in surprising places and we have to say…we love them. They are definitely not the average piece of home decor and the artists behind these handmade masterpieces and the work that go into them are what make them truly special.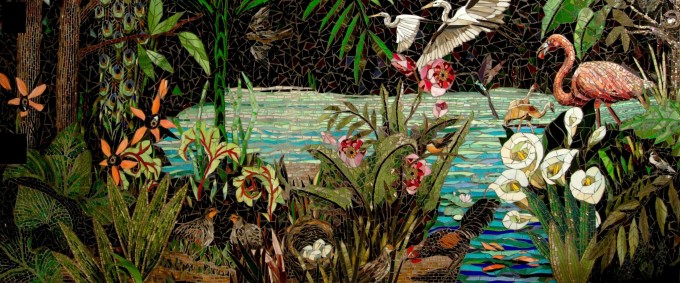 Photo by CustomMade designer Showcase Mosaics.
This mosaic made by CustomMade husband and wife team Sandra and Carl Bryant of Showcase Mosaics in Lynden, Washington is made from thousands of tiny tiles that come together to portray a gorgeous image of a bird sanctuary. The piece is 72" x 108" and is wrapped around a window in the couple's workroom. It also happens to be the first mural they ever created. They combined their mutual love of birds and Sandra's acquired knowledge of mural painting to design and make it.
Sandra said the most difficult aspect of creating mosaics is...having patience! Some of the past pieces have taken weeks to complete and consist of up to 1,500 individually cut pieces of glass per square foot.
But it's worth it to create one-of-a-kind art for clients, she said. Mosaics are great additions to homes because they are beautiful and refined, yet practical (they are easily cleaned and maintained, she said).
And they aren't only suitable for homes. The oddest place the Bryant duo has ever created one? Last summer they created a mosaic lining three walls of...an elevator in Chicago.
While we know mosaics are more permanent than hanging a painting from a wall, they have a special way of adding visual interest to pretty much any space. We think they especially work well in bathrooms and kitchens, but also add a unique something to outdoors areas like patios and gardens.
Want to see more? Check out CustomMade to browse through more amazing mosaics. And to see some of our favorites just click through the slideshow below!
PHOTO GALLERY
CustomMade Mosaics