By Alison Furuto
Click here for the original article.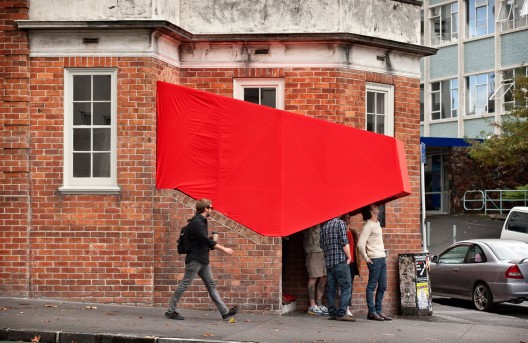 Copyright Simon Devitt & Oh.No.Sumo
Designed by OH.NO.SUMO, the 'Stairway Cinema' installation experiments with architecture and the way it can engage with the public in unique and exciting ways. This project takes inspiration from the site and its inhabitants. Located at the busy pedestrian intersection of two inner city streets in Auckland, New Zealand, the installation offers a very simple programmatic response to recognize and counter the issue of how a community must be linked not only virtually but also physically. More images and architects' description after the break.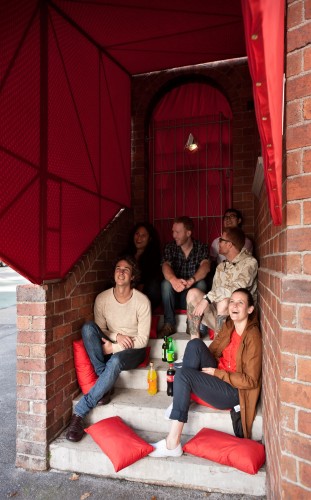 Copyright Simon Devitt & Oh.No.Sumo
It is located between two universities and is a place of 'unconsidered waiting'. Bus stops and laundromats create a dispersed hard-scape that results in numerous instances of poor quality waiting, while simultaneously failing to provide quality space for social interaction. Members of the public retreat individually into the media offered on their mobile phones. This in turn results in greater separation and dislocation from an existing community that is waiting to be activated.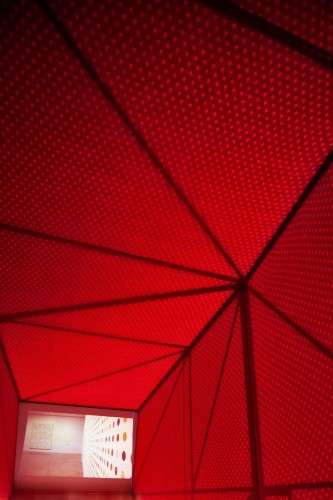 Copyright Simon Devitt & Oh.No.Sumo
Short movies, previously shared online, are projected for the public to enjoy, offering similar media to that sought out on their phones. The individual experience is exchanged for the communal and social, leading to a shared, fun and architecturally activated experience. Movies are collected from internet recommendations that have been shared by the public through social media. The public curate this virtual collection of media continuously and the cinema captures current trends and highlights within this realm. Stairway Cinema uses architecture as a way of engaging in a discussion about curatorial practice, opportunistic urbanism and the role of Architects as place-makers and provocateurs.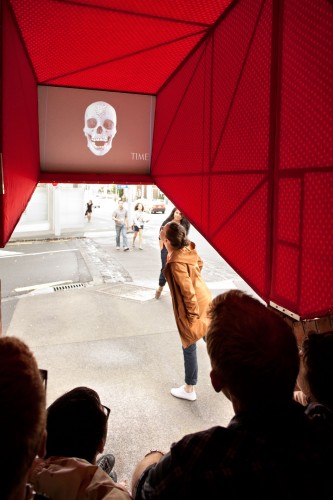 Copyright Simon Devitt & Oh.No.Sumo
The structure is a slender timber truss frame constructed from 24x24mm pine members. Covering this frame is a triple skin system of fabric that provides a waterproof exterior, a dappled light effect and a soft tactile interior surface. Sited above an existing exterior stairway, the fabric and timber hood creates a new interior within the public realm; a space that is free to enter and welcomes all. The interior, softened with custom made cushions, offers a repurposed seating tier. Over the entrance video content is projected onto the screen at the cantilevered end of the structure.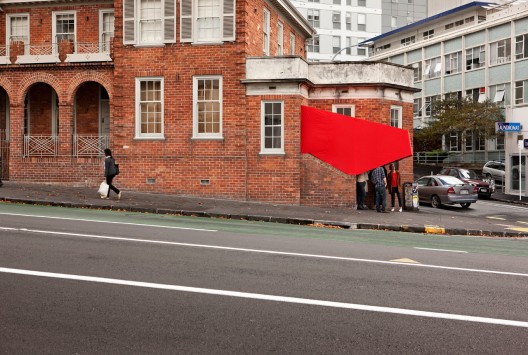 Copyright Simon Devitt & Oh.No.Sumo