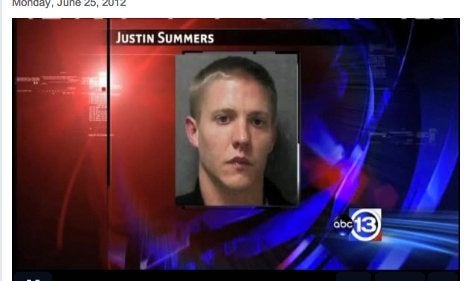 A well-liked employee of a moving company is accused of molesting and videotaping a young Texas girl while he helped her family relocate.
Justin Summers, 24, found a couple's 5-year-old daughter playing with her 7-year-old brother in an upstairs room of their West University Place home. Summers allegedly lifted her skirt and began to touch the girl in front of her brother. He then took two upskirt videos of the girl, according to police who searched Summers' phone after arresting him on June 23.
The parents discovered what had happened when their son told them what he had seen. Their daughter confirmed her brother's report and added that Summers had "touched her private area by putting his finger on it," according to the Houston Press.
Summers has been charged with indecency to a child and promotion of child pornography.
"I'm dumbfounded," said David Tripp, the owner of A Better Tripp Moving and Storage and Summer's boss, according to KHOU.com. "If these charges are legitimate charges, it's horrific."
Tripp, who worked under Summers' father, has known Summers since junior high school. The company also completes background checks on all employees, though Summers' record shows a 2005 burglary charge, as well as two others -- possession of marijuana and hitting a public servant -- that came after he was hired, according to KTRK-TV.
Summers quit his job in April, weeks after the March 16 incident. He had worked there for six years and been in "thousands of homes," Tripp told KHOU.com.
Summers was popular among customers -- many requested him by name. But now police worry that he might have attacked other children while on the job.
Summers is currently being held in Harris County Jail, according to the Daily Mail.
A quote from Officer Phil Clark, a spokesman for the West University Place Police Department, was removed from this article, following its removal from the media source for unspecified reasons.