Today is the birthday of abstract cartoonist extraordinaire, Philip Guston. The notable painter and printmaker who served as a bridge between abstract expressionism and neo-expressionism would turn 99 if he was magically still alive today.
Guston was born in 1913 in Montreal, Canada, but soon moved to the United States where he attended the Los Angeles Manual Arts High School. There he studied alongside Jackson Pollock and began a fascination with figurative and representational artwork. Beyond high school, Guston was largely a self-taught artist who turned a closet in his mother's home into a makeshift studio. From the beginning of his career, he took an interest in mural art, a medium that he used to voice his growing political and social sentiments. One of his first public works -- an indoor mural depicting the Scottsboro Boys -- was defaced by local police officers, and another was vandalized by the Klu Klux Klan.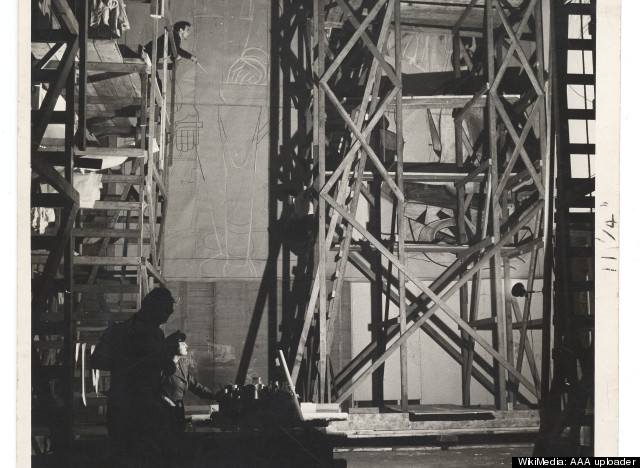 He continued to create murals throughout the 1930s and 1940s, and it was aslo during this time that he began teaching, first at the University of Iowa and later in various institutes in New York and beyond. But it was in the 1950s that Guston rose to fame as a successful member of the first-generation Abstract Expressionist group, alongside the likes of Pollock and Mark Rothko. During this period, Guston's work centered on color blocking and vigorous brushstrokes, exemplified by famous works like "Head" and "Last Piece."
In the late 1960s, Guston became increasingly frustrated with the "pure abstraction" of abstract expressionism and began to transition to more cartoonish renderings of personal symbols and objects. Works like "City" and "Edge of Town" incorporated recurring images of bulging buildings, cigarettes and hooded figures, all portrayed in soft, muted tones. This move back to figurative work was not well accepted, despite praise from painter Willem de Kooning. Guston's artwork did not regain popularity until the time of his death in 1980.
But today Guston's work is again celebrated, with a major collection of his work housed at the Museum of Modern Art in New York. So in honor of the near-centennial anniversary of the renowned painter's birthday, we urge you all to raise your glasses today to Philip Guston!
PHOTO GALLERY
Happy Birthday, Philip Guston!
BEFORE YOU GO