Have you ever wished that your cell phone could make you look like an ultra-radical stud to the max?
Killer news, dude: Designer Brad Helmink has created what he calls the 1980's Brick Phone, specifically designed to resemble those clunky early-model mobile phones used by Zack Morris in Saved By The Bell and Gordon Gekko in Wall Street. Helmink is raising money to mass-produce the fat phones via an Indiegogo project, and when the goal is reached and the retro phones ship out to customers, you can expect to look something like this while gabbing on your cellular: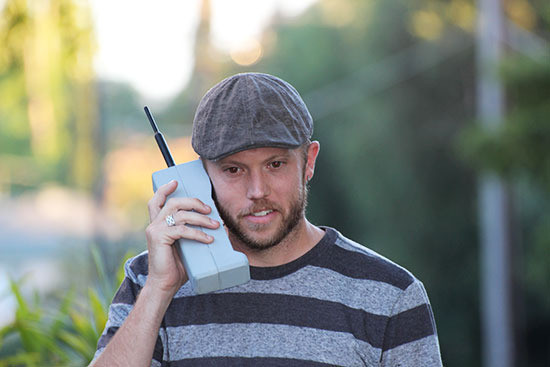 Little floppy hat not included
.
Now, compared to your modern smartphone, the 1980's Brick Phone would appear to have, uh, limited functionality. Thing is, though, you're not actually giving up your iPhone or Android for this "phone": In fact, the 1980's Brick Phone is not a "phone" at all, as it can't really make or receive phone calls without being connected to another device.
Think of the 1980's Brick Phone as a much bulkier, more stylish replacement for your Bluetooth earpiece, and you're closer to what it is the Brick "Phone" actually does.
Indeed, like headsets from Jawbone or Plantronics, the 1980s Brick Phone is (anachronistically) Bluetooth-enabled and can handle the audio on calls received and dialed out on your actual phone. Just pair the Brick Phone to your iPhone, Android, or Windows Phone via Bluetooth and, when you receive a call on your mobile device, you can answer that call and conversate away, looking like a modern-day AC Slater all the while.
The 1980's Brick Phone will charge via mini USB and gets up to 10 hours of battery life, which is plenty of time for you and your homeboys to chat about Ollie North, and the relative career prospects of Corey Feldman contra Corey Haim, and the declining quality of Bob Dylan albums after Slow Train Coming. Though the 80's Phone will initially come in a classic tan shade, Melnick expects to eventually offer his gadget in several wild colors (think: Olivia Newton John's Physical music video).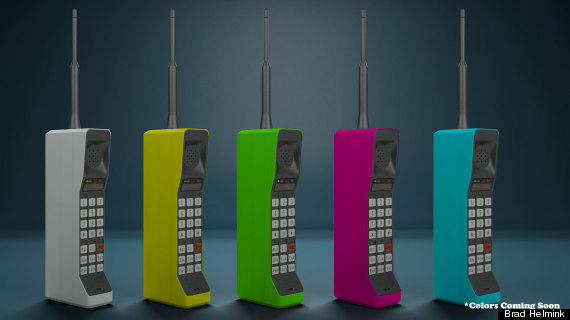 How you carry around both a smartphone and the brick phone is anyone's guess, though one would imagine a bag, or satchel, or over-the-shoulder holster of some sort would be involved.
If you have fond memories of the 1980s, love Saved By The Bell, or live in Brooklyn*, you can pledge your support for the 1980's Brick Phone project at Indiegogo, where a $45 donation will get you one of the first models.
*The Brick Phone is available internationally, though something tells me that many of the initial orders will come from Brooklyn.
Below, check out Melnick giving his pitch for the 1980's Brick Phone, and watch the thing in action. Looking good with that phone, Brad -- Kelly Kapowski is sure to be all over you: