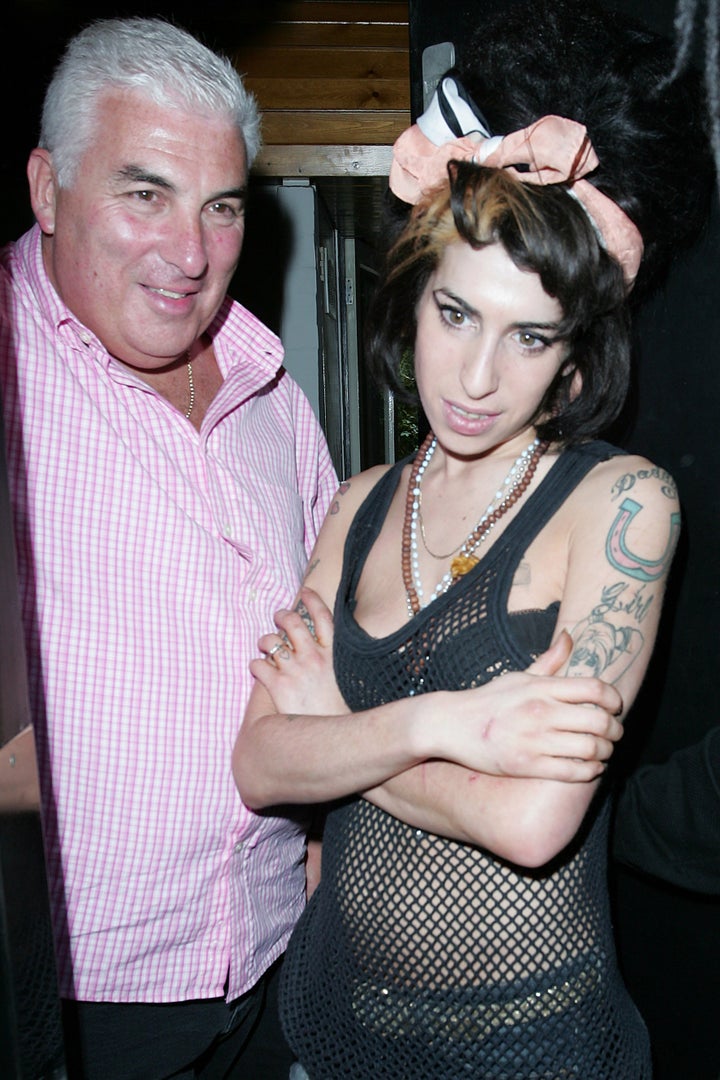 Almost a year ago today, we lost one of the strongest, most original voices in music. Amy Winehouse passed away in July of 2011, and there's still a chasm in the music world that has yet to be filled.
Her father, Mitch Winehouse, has been attempting to deal with the loss as best he can. Over the past year, he has had fingers pointed at him over Winehouse's death; the media, the public and even some people in the music industry believe he's partially accountable for her passing. In response to her untimely death, and as a kind of coping mechanism, Mitch Winehouse has written and published a book, titled "Amy: My Daughter."
In it, he explores Amy's life from birth to death, revealing little-known details, such as her uncanny ability to understand complex math, her deep relationship with her grandmother, and her tumultuous love affair with Blake Fielder-Civil. He also seeks to uncover Amy's true life story, rather than have people piece together incorrect factoids from tabloid articles or celebrity gossip.
The Huffington Post spoke with Winehouse about his book, why he wrote it and how much of an impact Fielder-Civil had on Amy Winehouse's life.
First things first: I just wanted to offer my condolences. This really was a tragic loss.
Thank you.
What was the impetus for you to write this book?
Three reasons, mainly. Immediately after Amy passed away, people were beginning to speculate that it was a drug overdose or that she'd committed suicide, and of course neither of those are true. I had to address that. Also, I felt that the writing process would make me feel better and help me with my personal recovery -- which it has. And lastly, it's an important way to raise funds for the [Amy Winehouse] Foundation.
When your book first showed up in the office and no one knew the proceeds were going to the Amy Winehouse Foundation, people were saying, "Oh, he's just doing it for money. Oh, he's just doing it for fame."
I really don't care what people think. I just want people to buy the book, so that we're going to be able to help more young people in trouble. If they want to think I'm an asshole or a money-grubber or whatever, that's up to them. Just buy the book, give us the money.
There's a lot of things we learn about Amy in the book that the public has no idea about -- her math ability, her dancing prowess. Is there anything else the public doesn't know?
We probably wrote enough for two books, but I can't remember what was edited out and what was kept in. But I will say, Amy could read and write before she even went to school. I think that explains a lot about her disruptiveness there. She was clearly not engaged, and obviously very bright.
Even after you released this book, do people still focus on the drugs and alcohol aspect of her life?
This is one of the main reasons I wrote the book. Even now, people don't realize that she was clean from drugs for almost three years, and in the last six weeks of her life, five and a half were spent without drinking -- she was completely sober. A lot of people thought [when I said this after her death] that they were the deluded ramblings of a grief-stricken father, but those are the facts. Just like, in her last two days, she drank an inordinate amount of alcohol and that's why she lost her life. It's indisputable.
You're in the music business as well, so you're familiar with the ins and outs. How prevalent are drugs in the culture? Is it possible to evade them?
You're not going to hear a story about Jamie Cullum, a British artist, who isn't out there doing drugs. You're not going to hear any story about Adele [without an alcohol or ex-boyfriend reference] because she's also not into drugs. It's not news. They wouldn't print anything about Amy being clean. They're only interested in the bad stuff. The vast majority of musicians don't really do drugs or drink a substantial amount of alcohol, so I don't think showbiz is a contributory factor towards people's addictions. It's an individual thing, really.
And Amy also had the influence of Blake [Fielder-Civil]. How much do you think he steered her in the wrong direction?
In his own words, he's said that he was instrumental. He introduced her to Class A drugs, and he said that she took to them "like a duck to water." His words, not mine. He now has to live with that. He's not responsible for her death, though. That was a tragic accident. He didn't want her to die, he loved her. But he turned her on to those drugs, and that's something he's going to have to live with.
How did you deal with the stress of knowing that your daughter was taking that kind of drug?
I don't know why it took me so long to realize ... I must have been deluded. It was only when I actually saw the drug paraphernalia -- which involved the silver foil -- and that's when I realized what was happening. It was very difficult. I knew I had an uphill battle on my hands.
If you look back in music history, a lot of truly brilliant musicians have had inner demons. Was Amy always so happy-go-lucky? Or did she have a dark side?
She was very happy-go-lucky. I think her problems started when my mom passed away in May of 2006. Amy was very vulnerable at that point, and she loved my mother dearly. Also, that's when Blake reemerged. It ended up being a very dangerous scenario. Blake and vulnerable young women are not a good match -- he has a history with this kind of stuff. It was an accident waiting to happen.
It was a convergence, then, of different events that led her down this path.
Exactly. She might have found her way to drugs in another way, I don't know. We can speculate all we like about that.
What would you like people to remember most about Amy, other than her music?
That's a good question, and I've told this story about 15 times, but I love it. People talk a lot about Amy and Camden Town; well, she loved the west end of London. She loved Soho. When we were walking down this particular street after Back to Black, she was a massive star, and Amy knew literally every single person on the street. She stopped at every store and talked to everyone. I was so proud of her. She didn't have to do that. She was a huge superstar, but that's exactly what she loved to do. It's my favorite memory of her -- smiling, laughing and being a normal person.
PHOTO GALLERY
Amy Winehouse
BEFORE YOU GO