Horns? Check. Creepy costume? Check. Blue thing that makes you look like you're flying? Check!
In more photos from the set of "Maleficent," Angelina Jolie appears to be filming a scene which requires her to be floating. She's hoisted into the air by the device, which is colored blue so it can be cut out of the shot in editing.
The movie, which tells the backstory of the villain of "Sleeping Beauty," is not due out until March of 2014. Disney had previously released a teaser photo of Jolie with her horns, and earlier paparazzi photos of the set revealed her full look.
Joining Jolie in the film are Elle Fanning as Aurora/Sleeping Beauty, Sam Riley, Sharlto Copley, Imelda Staunton, Miranda Richardson, Juno Temple and Lesley Manville. Robert Stromberg makes his directorial debut. For more photos from the set, head over to BuzzFeed.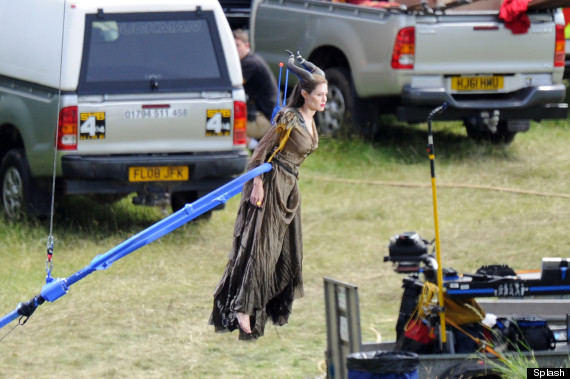 PHOTO GALLERY
Angelina Jolie & Brad Pitt