Starting Thursday, June 28, Verizon retail workers around the country will likely be dealing with some angry, angry customers.
See, June 28 is the date that the Verizon unlimited data plan -- still in use by millions of customers grandfathered in to that don't-worry-about-your-data model -- effectively dies. After June 28, when you upgrade your smartphone and sign a new two-year contract, you will be kicked off your unlimited data plan and onto a new, "tiered" plan, where you'll pay for a certain amount of data per month and then pray you don't exceed it.
Though Verizon has done some admirable work explaining the benefits of these tiered plans -- clearly describing how they work, while pointing out that 90 percent of its subscribers use less than 2GB of data per month in a recent blog post -- some of its customers will no doubt opt to take their money to Sprint or Virgin Mobile, carriers that still offer unlimited data plans to new subscribers.
Why should a wireless subscriber, after all, be forced to choose between streaming video of a Kevin Durant game-winner and downloading Doodle Jump? With costs on the major carriers soaring, and the convenience of unlimited data ending, is there any reason, Marguerite Reardon of CNET asks, not to get a prepaid phone with a cheap unlimited plan?
These are difficult decisions, to be sure. But before you give yourself over to Sprint or Virgin Mobile and their warming cocoons of unlimited data, here's a question to ask yourself: Do you really need your data to be unlimited? How much data are you actually using?
This may sound obvious, but you need to study your monthly data usage before selecting a monthly data plan. You might not be using anywhere near enough data per month to justify an unlimited plan, after all.
I checked my family's historic data usage on AT&T's website, a service available to customers on the websites of the four major U.S. mobile carriers. I was surprised to find that I use about 650MB of data per month; my mom uses 200MB per month; my sister uses about 700MB; and my dad, apparently just pecking at digital crumbs, hasn't topped 100MB per month since January.
If AT&T were to cancel our grandfathered unlimited data plans ($30 per month) tomorrow, we'd be okay, in other words. The current plans offered include 3GB per month for $30 or 300MB for $20 per month. My family might even save $20 per month if we moved Mom and Dad down to that latter plan.
(It's worth noting that my family members might be a bunch of data lightweights. Verizon said in an email that its average customer uses between 1GB and 2GB of data per month).
As Verizon phases out grandfathered unlimited plans -- with AT&T expected to follow -- now might be a good time to get acquainted with how much data you're using.
If you're an AT&T customer, you can find this on AT&T's website after you log in, under My AT&T > Wireless > Usage & Recent Activity, and then following the link to "Analyze Past Usage." You'll see a handy chart like this: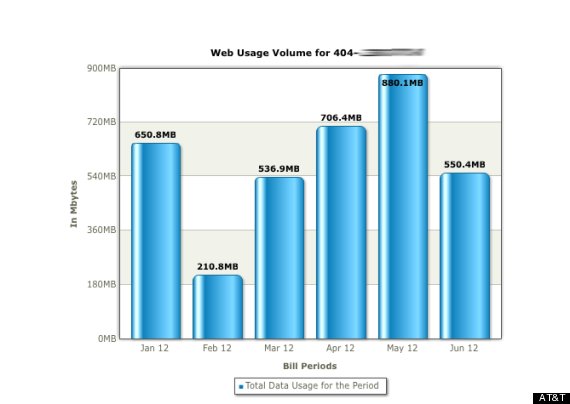 The process is similar on Sprint, T-Mobile and Verizon. If you've got your log-in information, it's easy as pie. Here's how to do it on Verizon; here's how to do it on T-Mobile.
If you shift to a tiered data plan, you might also want to download an app that details and can help control your data usage. For the iPhone, DataMan Free is a popular, lightweight and free option that alerts you as you near your data caps; Data Usage ($1 for standard, $2 for Pro) comes highly recommended by the venerable Lifehacker and seems a bit more robust. For Android, Lifehacker recommends Onavo, which analyzes your data, notifies you when you hit usage milestones, and can automatically turn off data-hogging apps when you're nearing your limit for the month.
Your carrier might also offer an app for your smartphone that displays, among other things, your data usage. For AT&T, you can download the free MyAT&T app for Android here and for iPhone here. For Verizon customers, here's the My Verizon app for iPhone, and here it is for Android. Here's My T-Mobile for iPhone, and for Android.
There are certainly those, no doubt, who stream so many videos and so much music and are downloading so much content from the Web to their mobile devices that finding an unlimited plan is the only way to avoid huge overage fees. Others will be able to use the tools listed above to find the right tiered plan, on the right carrier, for their data needs.
And me? Well, I've only used 400MB this month. Time to watch some Kevin Durant footage while playing Doodle Jump, I suppose.