The Waldo Canyon Fire burning near Colorado Springs began burning on Saturday, June 23 and by Sunday -- fueled by record heat, high winds and dryness -- it grew rapidly and forced the evacuation of 11,000 residents. After several days of Red Flag Warnings, conditions were ripe for further growth, and by Tuesday, June 26, Waldo Canyon Fire exploded.
The fire forced the evacuation of at least 32,000 residents, expanded to 15,517 acres, quickly engulfed what is believed to be hundreds of homes in the area, and now continues to rage on Thursday with only 5 percent containment as thousands of evacuees wait in shelters.
The Moderate Resolution Imaging Spectroradiometer (MODIS) on NASA's Aqua satellite captured an image of Waldo Canyon Fire on June 26, 2012. In it, thick smoke, partially obscured by clouds, can be seen blowing for miles across the state. According to NASA, the red outlines indicate hotspots where MODIS detected unusually warm surface temperatures associated with fires.
LOOK Waldo Canyon Fire from space, via NASA: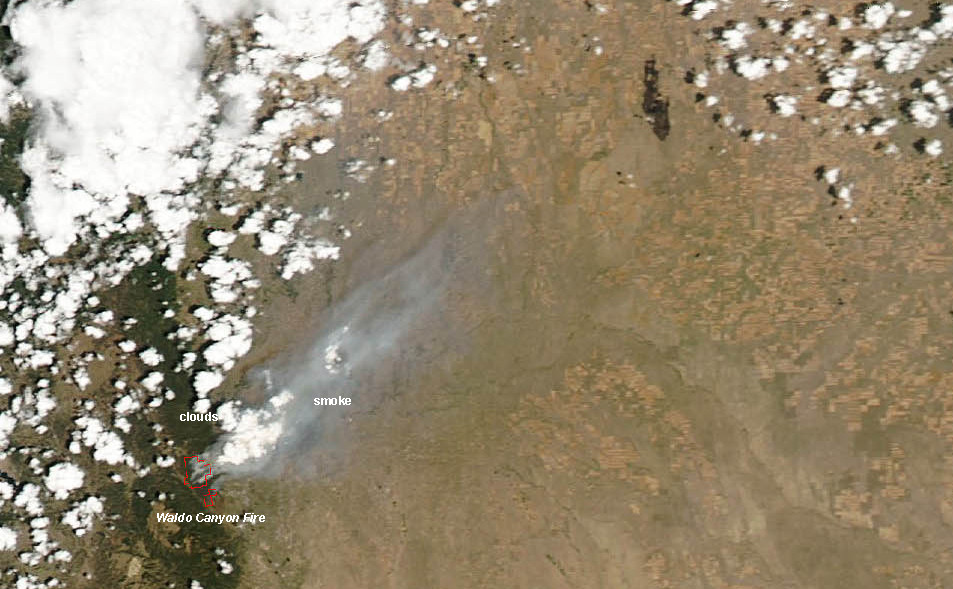 Additional photos of the Waldo Canyon Fire:
BEFORE YOU GO
PHOTO GALLERY
Photos of the Waldo Canyon Fire