As Fall fashion campaign ads continue to roll in, it's exciting to see which top models will be serving as the faces of our favorite brands.
We reported a few days ago that Naomi Campbell was tapped for a second time by Pinko and now we've got the first look at Fendi's fall ad offering, starring none other then our favorite supermodel-in-the-making, Joan Smalls.
Fendi's creative director Karl Lagerfeld, who also shot the campaign, said he knew Joan was the one while watching the 23-year-old stunner walk in his Fall 2012 fashion show.
"I said to myself backstage during the show: 'It's her and her alone. No other girl -- or boy -- no child, only her,'" Lagerfeld told Women's Wear Daily.
The two certainly know how to churn out some fabulous shots -- they worked together on Chanel's Spring 2012 campaign, where Joan channeled her inner gymnast while wearing high-end threads. And while Joan hails from Puerto Rico, she could be the descendant of an ancient Italian goddess in Uncle Karl's eyes.
"She had this incredible golden, glowing skin that made her look like some Etruscan beauty," Lagerfeld said.
Joan, who is currently gracing the cover of W magazine's July 2012 issue, was captured by the Kaiser for Fendi posing in a gorgeous grey getup complete with a colorblocked handbag while hanging at a lovely Italian vineyard in Chianti, located 40 miles outside of Florence.
Karl says they had to work around some bad weather, but you can't tell from the gorgeous shot below. What do you think?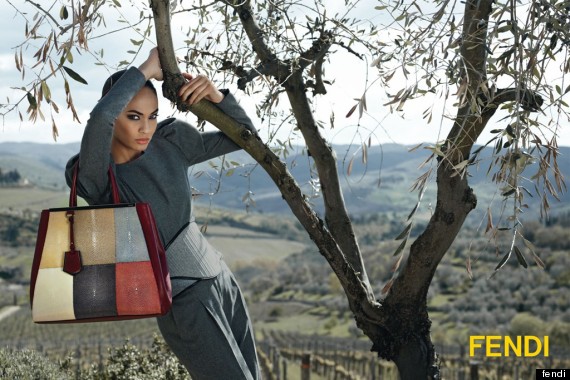 Check out this test shoot with journalist Lynn Hirschberg that Joan shot for W magazine:
BEFORE YOU GO