"He breathed like an animal that's excited," Lucian Freud's sitter and lover Lady Jacquetta Eliot says in the opening comments of the upcoming documentary, which airs July 3 on the Smithsonian Channel. "He was very animal and feral." Freud devoted his career to painting portraits of the human animal, depicting the body as an unruly sack of desires, reactions and endless flesh. On the one hand his sitters claimed his portraits captured their true essences to a frightful degree, and yet the animal nature of the images often seems to show just as much about Freud himself.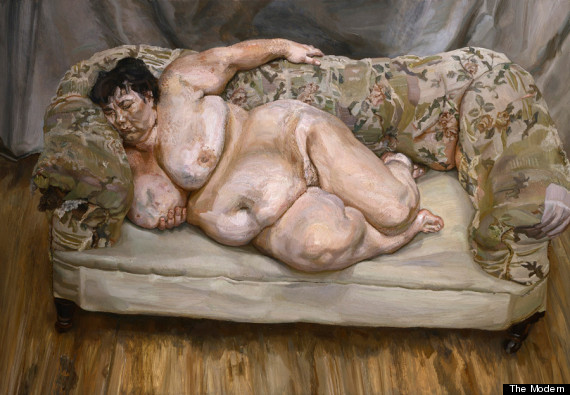 The documentary "Freud's Naked Truths," directed by Randall Wright, traces the life of Sigmund Freud's legendary grandson, with insight into his most famous paintings and commentary by his family, friends, associates and lovers. Chuck Close, David Hockney, Freud's assistant David Dawson and agent William Acquavella are amongst the storytellers. It also features the only existing footage of Freud at work, captured coincidentally on his last day painting before his death. The camera is generous to Freud's visceral strokes, cozying up to the puddles of paint as if directing viewers as to how a Freud painting should be approached.
The film presents Freud as brutish yet shy, elusive even while putting the intimate details of his life on display. His works depicted nude lovers splayed open, creating a more vulnerable, intimate image than one would encounter if they were looking at the body in real life. Every scar, every flush, every sunburn was agonized over and teased to the surface. He was a notorious womanizer, sleeping with many of his young, female sitters, causing some to raise eyebrows in his old age. Although he has been rumored to father up to 40 children the documentary cites the known number as 14. While Freud professed his love to many of his subjects and lovers, his renditions of them displays pure fascination. A fascination that is both attracted and repulsed, his depictions of his lovers is rendered with the same faithful irreverence as of bald, gay performance artist Leigh Bowery or his own grown daughters.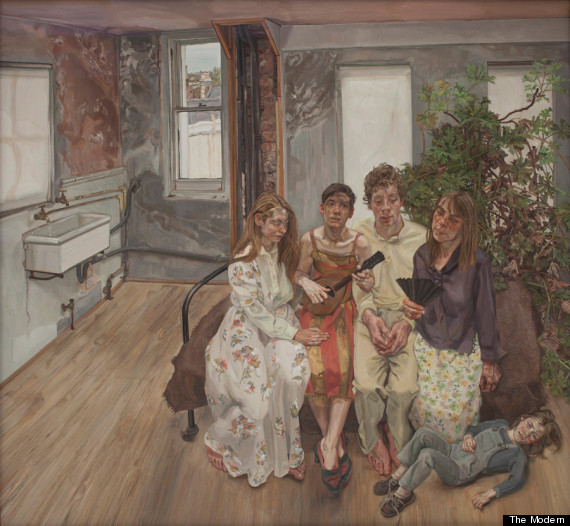 Perhaps this is not a great surprise coming from a man whose first word was German for "alone." One of Freud's most cherished relationships was with Francis Bacon, who is partially responsible for Freud's unrelenting style, making each painting not a representation but a paint event. Bacon inspired Freud with his obsession with what he called "the accident," that unpredictable aspect of painting which made Freud's collection of nude after nude still seem risky and risque. After befriending Bacon, Freud switched to a large hog's hair paintbrush, intensifying his pieces to their limit. You can see his works evolve from sharp-edged to mushy in the slideshow below.
With paintings that are the anti-photoshop, Freud captured the true, frustrating, stimulating and often repulsive experience of living in a body. Even when painting Queen Elizabeth, Freud did not back down from showing the dirty details embedded in our skin. His work's honesty and intensity combine to create a heightened reality almost more truthful than real life. Freud's portraits were an unbelievable hit when they showed at the National Portrait Gallery earlier this year; the gallery had to stay open until midnight to house all the visitors. Now Freud's portraits are coming to the United States, showing at The Modern Art Museum of Forth Worth in Texas from July 1 until October 28. If you are lucky enough to be in the area, this exhibition is certainly not to be missed. (Plus, in summer, we can imagine it will be all kinds of sweaty, which we think Freud would approve of.) If not, be sure to check out "Freud's Naked Truths," which premieres Tuesday, July 3rd at 9 p.m. on the Smithsonian Channel.
See a slideshow of the works on display below:
PHOTO GALLERY
Lucian Freud
BEFORE YOU GO