The Waldo Canyon Fire burning near Colorado Springs began burning on Saturday, June 23 and by Sunday -- fueled by record heat, high winds and dryness -- it grew rapidly and forced the evacuation of 11,000 residents. After several days of Red Flag Warnings, conditions were ripe for further growth, and by Tuesday, June 26, Waldo Canyon Fire exploded.
The fire forced the evacuation of at least 32,000 residents, expanded to 17,073 acres, quickly engulfed nearly 350 homes and killed at least two people.
Days of record heat produced a surge of new fires burning throughout Colorado and also provided fuel and devastating growth conditions for the fires already burning. A total of ten major fires were burning around the state last weekend, all part of the worst wildfire season in a decade.
In this NASA map of land surface temperature anomalies, the intensity and scope of the heat wave in the western United States is clearly visible -- especially over Colorado, southwest Nebraska and parts of Wyoming. The map is based on data gathered from June 17-24 from the Moderate Resolution Imaging Spectrometer (MODIS) on NASA's Terra satellite.
According to NASA, the map depicts temperatures compared to the 2000-2011 average for the same eight day period in June.
Areas with warmer than average temperatures are shown in red, normal temperatures are shown in white and cooler areas than average are shown in blue.
From NASA:
Land surface temperatures (LST) are distinct from the air temperatures that meteorological stations typically measure. LSTs indicate how hot the surface of the Earth would feel to the touch. From a satellite vantage point, the "surface" includes a number of materials that capture and retain heat, such as desert sand, the dark roof of a building, or the pavement of a road. As a result, daytime land surface temperatures are usually higher than air temperatures.
LOOK at the heat wave map via NASA: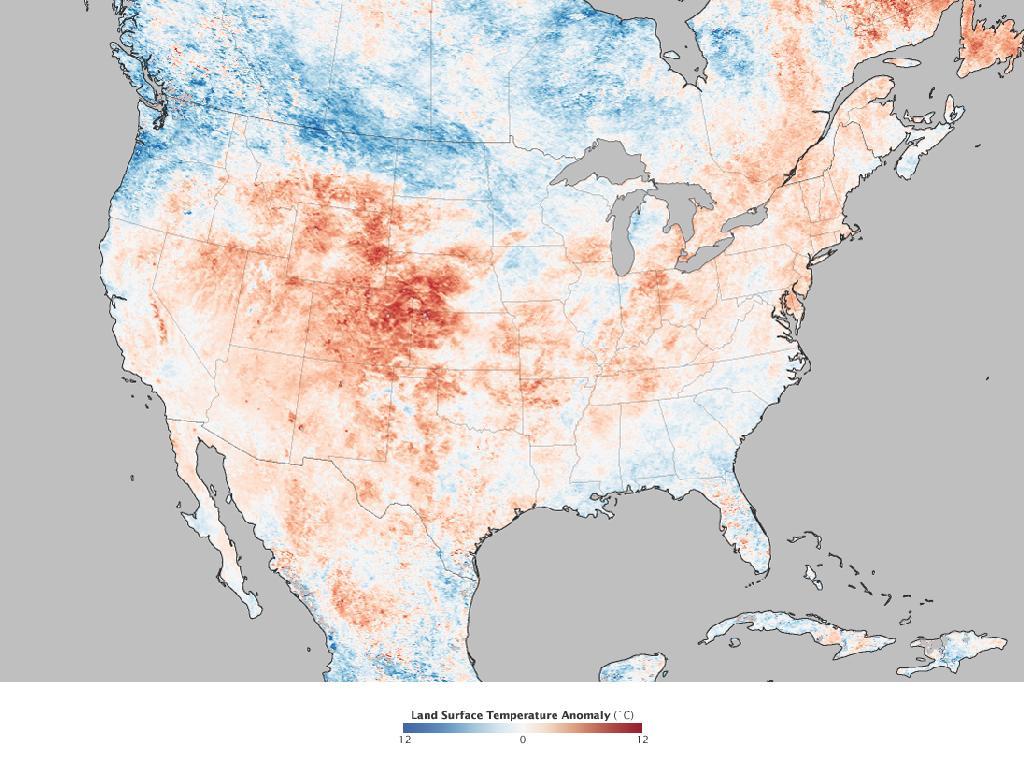 Additional photos of the Waldo Canyon Fire:
BEFORE YOU GO
PHOTO GALLERY
Waldo Canyon Fire 2012
AP NATIONAL WILDFIRE TRACKER: