Pippa Middleton doesn't seem to have much luck in the wedding department. First, she had to maintain her mere commoner status as her sister married into the royal family and now she's being criticized for showing up to a friend's nuptials without a date. And this time, let's just say her dress didn't have the same stellar reviews as the ones garnered from her royal wedding gown.
The sister of the Duchess of Cambridge opted for an Alice Temperley frock for the wedding of close friends Alice St John Webster and Gerald Avenel this weekend. The blush-colored dress was a lovely peasant-style ensemble with fluttery sleeves and embroidery lining the bodice and hem. Pippa paired the look with black satin pumps, a black clutch and a pretty epic fascinator. (Related: Can wedding hats become de rigueur in America too, please?)
While we think it's quite a charming ensemble for the socialite, Pippa's come under fire for her style choice. The Daily Mail first remarked on her "chutzpah" to show up dateless and proceeded to rip Pippa a new one, claiming the dress looked like "Heidi rick rack nonsense" and was overall unflattering. While we do agree that the dress could have used a good steam, referring to its color as a "dentures salmon" might have been a bit harsh. We would have gone with pale pink.
As for her decision to attend the wedding alone: If homegirl went stag to a wedding, it certainly was not for lack of choice of suitors. Good for her for flying solo and shamelessly wearing one of her favorite designers. We're definitely on team Pippa on this one, but where do you stand?
PHOTO: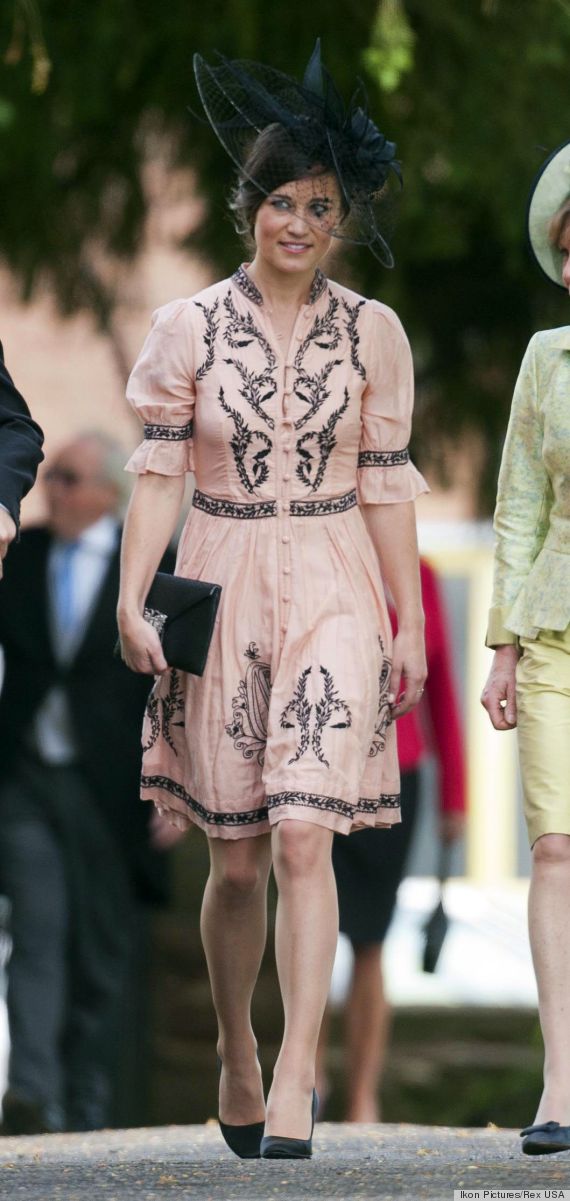 More of Pippa's fashion choices!
Want more? Be sure to check out HuffPost Style on Twitter, Facebook, Tumblr and Pinterest.