Remember when Christian Louboutin titillated our hearts like a Disney love story when he announced he'd be making a version of the glass slipper from "Cinderella," back in April? Well, hold onto your (respective) Prince Charmings, because the cinematic shoe is finally here.
The only problem? To us, it's a little... ornate.
Women's Wear Daily got the dirt on the new butterfly-emblazoned heel, which went on display on Wednesday in Paris. Released in honor of Walt Disney's release of "Cinderella" on Blu-ray disc this fall, the shoe channels that iconic piece of footwear from the 1950 Disney movie using lace and Swarovski crystals in place of actual blister-inducing glass. At least Louboutin has stuck true to the plot point where Cinderella tripped and lost one of her heels: the new Loubs measure in at 120-millimeters (almost five inches).
Louboutin himself debuts the shoe in a short film, playing an old-timey cobbler tasked with making a heel for a modern-day Cinderella.

It's not that we're shocked the shoe is a little flowery -- for the man who invented the SEX shoe, minimal is not exactly part of the Louboutin vernacular. But still, if it were up to us, we would have gone a little more simple -- maybe a translucent version of Kate Middleton's favorite pump? -- to evoke the idea of glass.
Scope out the new heel below and tell us: will you be getting your Cinderella on?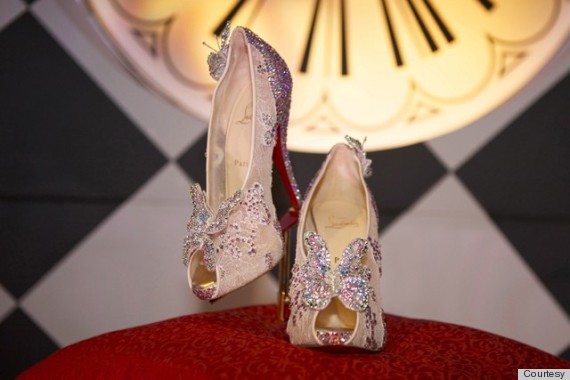 See some more wild Louboutins!
Want more? Be sure to check out HuffPost Style on Twitter, Facebook, Tumblr and Pinterest.