A British lingerie brand has unveiled what it's touting as the world's largest strapless bra, clocking in at size 42P.
The bra is sold under British company N Close's brand Simply Be, which specializes in apparel and lingerie in sizes 10-28. On SimplyBe's British website, the £27 bra goes up to size 42K, but on the company's American site, it's available in sizes up to 42P for a cost of $44.
"We have developed the largest underwired strapless bra in the world to offer you secure support up to a P cup," the company writes on its website. The bra in question, adorned with a pretty leaf pattern embroidery, is actually one of those multi-way bras that can be worn strapless, as a halter or asymmetrically. Other features include "silicone banding to stop slippage," "deep wing for extra support" and "bones in the undercup to strengthen bra."
In our experience, women of all sizes tend to hate strapless bras. Modestly endowed women feel they pinch and ride down, whereas our friends with larger boobs feel they're not up to snuff in the support department. So how is this lingerie engineering feat working out?
Comments on the bra's commerce page suggest some aren't totally thrilled with its performance. Writes one reviewer: "I am a busty woman, and was so excited to finally find a strapless bra in my size. Unfortunately, when i tried this one on, it felt unsupportive and made my girls look pointy and weird." A woman who says she's a 40G writes, "the hold was tenuous at best, and anything other than walking caused it to roll down. The band folded in half on my back and rolled. And then my breasts looked like pancakes sticking out from my body, almost like flat triangles. Not flattering at all." But another customer praised the bra, saying, "It has great support and looks great under formal wear and tube tops."
We can also credit Britain with developing the world's largest regular bra -- a 1222B size, 102 feet wide creation designed for the"Wear It Pink" Breast Cancer Campaign last year. But judging by this map of the world's largest bra sizes: Russia, this one might be for you.
Check out a pic of a woman modeling the bra -- which doesn't appear to be in 42P! -- below.
PHOTO: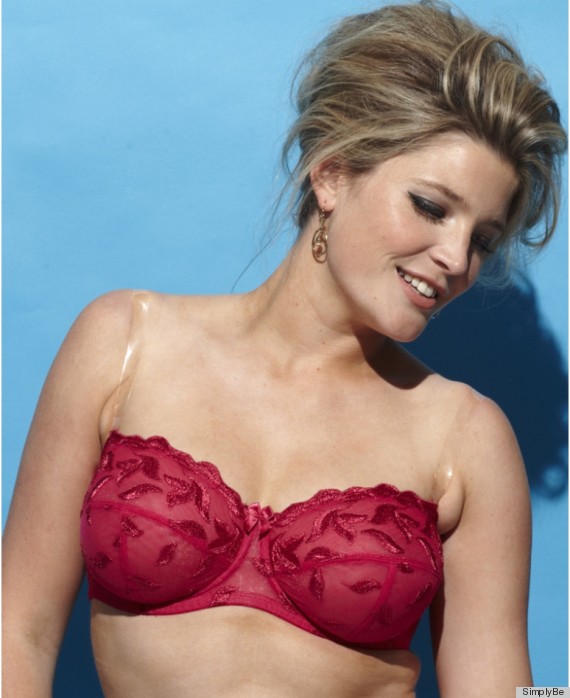 Want more? Be sure to check out HuffPost Style on Twitter, Facebook, Tumblr and Pinterest.