The heat is here to stay this weekend in New York City. Temperatures will jump into the triple digits Saturday, nearing 100 degrees, with the cement-compounded sticky city heat index reaching as high as 110 degrees. The National Weather Service has issued an excessive heat watch for Saturday.
For those without air-conditioning, now's a good time to perhaps peruse movie listings (maybe drink a GIANT, ice-cold 16 ounce soda!) or find your nearest swimming pool (at least they're open this time).
For those planning on attending the inaugural CBGB Festival-- featuring Reggie Watts, Superchunk, Guided By Voices and much, much more-- The Village Voice has a great guide to not dying of sunburn or heat stroke. (Hint: drink lots and lots of water.)
Looking to get out of the city altogether? Maybe spend the heat wave underneath the shade of trees upstate? Then check out our guide to the best glamping (that's fancy camping) spots near New York.
Thunderstorms could maybe break up the heat Saturday afternoon or Sunday, but if they don't, you can always just (legally) bust open your block's fire hydrant.
Which brings us to this lovely picture, taken by Travis Egedy, who some of you may know as the musician Pictureplane. "Summer in Brooklyn captured in one image," Travis writes on his Instagram page. And we couldn't agree more: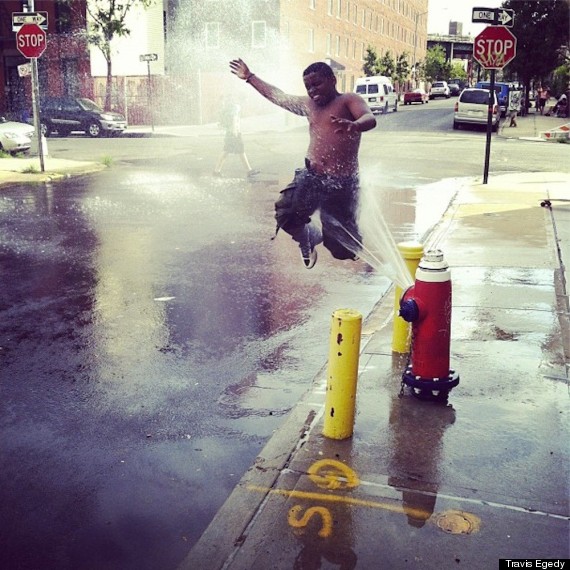 Temps are supposed to dip back down into the 80s come Monday, but until then remember to check on your elderly neighbors and conserve energy. Con Ed, after all, is a little shorthanded.
And while we're at it, some more fire hydrant photos:
BEFORE YOU GO
PHOTO GALLERY
Cooling Off In NYC Fire Hydrants