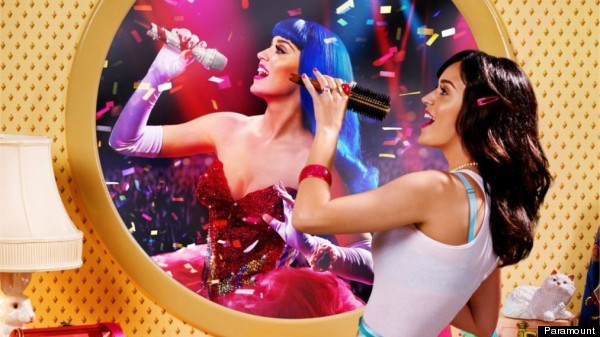 The reviews for Katy Perry's concert film/documentary/Hollywood press release "Part of Me" are in, and critics agree: Katy Perry definitely has a movie out called "Part of Me."
We actually have no idea what the movie is about, but based on the poster, Katy Perry was once a young, innocent girl who sings into her hairbrush and then, no doubt through hard work and perseverance, she becomes a multi-platinum selling pop star. (We assume "hard work" and "perseverance" are the names of her breasts.)
This transformation is demonstrated through her mirror showing what she once was and what she would become. But considering she has apparently gone through plenty of transformations in her life and career, including starting out as a squeaky-clean Christian singer before becoming a girl-kissing, fireworks-blasting sexpot, we're not sure it reflects reality much.
Since the movie's narrative seems largely fictional, we thought we'd take the liberty of adjusting the movie poster to a Katy Perry movie we'd actually want to watch. What would you want to see Katy Perry transform into?
PHOTO GALLERY
Katy Perry's Mirror
BEFORE YOU GO