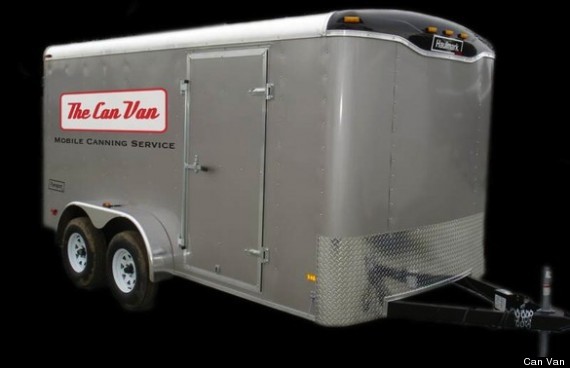 We've heard of mobile wine bottling outfits, but a mobile cannery? A young group of MBA grads from Presidio Graduate School in San Francisco recently created just that this past February.
The Can Van is a large trailer outfitted with canning equipment. When hooked up to beer tanks, even a small craft brewery without the funds to afford its own canning line can pump out their own canned beer.
Canned beers were once considered a major faux pas, but craft breweries are taking note of their low production costs, ease of transportation and the benefits allowed by a can. Unlike glass bottles, which let in light and can alter a beer's taste, a can ensures it stays completely in the dark and does a better job of keeping out unwanted oxygen.
Owners Jenn Coyle, Lindsey Herrema, Kate Drane, Jake Blackshear and Heath Cox offered some insight into how the company got started to Strategic Monk:
The idea originated when Jenn Coyle learned from her father about the drawbacks of bottled beer in Alaska: bottles are too heavy to carry on small planes, and glass isn't recycled in most of the state. Cross that with the mobile wine bottling services that serve small wineries in Northern California and the idea for a mobile canning service that helps small breweries was born.
As of last December, the Can Van hoped to work with breweries in Northern California, but hopes to expand to other parts of the state in the future.
See the Can Van in action in the video below.
BEFORE YOU GO