The Huffington Post Black Voices is excited to announce the four designers that have been chosen to present their sartorial creations this September for the 5th annual Harlem's Fashion Row New York Fashion Week show.
Drum roll, please...
Omar Salam, designer of Sukeina
Latisha Daring, designer of Ashtyn
Joseph Bethune, designer of Bethune Brothers
Nzinga Knight, designer of Nzinga Knight New York
The winners were chosen by a panel of judges assembled by HFR founder and CEO Brandice Henderson and included Fern Mallis (known to most as the creator of "Fashion Week" in New York City and loved by fashion fans the world over), Shawn Outler (Macy's vice president of Fashion Forecasting & Operations, Leased Businesses and Multicultural Development), Memsor Kamarake (renowned stylist and fashion editor) and our very own Huffington Post Black Voices style and beauty editor, Julee Wilson.
But we also asked you to weigh in on who you thought was worthy of one of the four coveted spots. There was some discrepancy of opinion -- although readers had Nzinga Knight winning, the designs from Shauntelé also had a strong showing. Maybe we'll see some of your picks on the runway next year.
Here's a look at the reader results: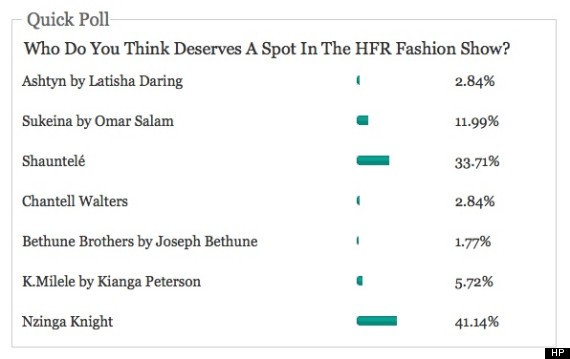 Congratulations to all the winners! We can't wait to see what they have up their fancy sleeves for Spring 2013.
In the meantime, check out the four fabulous winners and some of their amazing designs in the slideshow below: