The London-based contemporary art foundation Parasol unit is presenting a participatory dance event called "A place to live when we are old" this month in Bishops Square. Organized by Argentinian artist Ana Gallardo, the project is an "inter-generational, dance-based piece" that brings the talents of three amateur dancers from Mexico to the open spaces of London. The dancers, who are all in their 70s, will act as public teachers, offering open demonstrations and lessons of a traditional Mexican dance, danzón, to any willing passersby.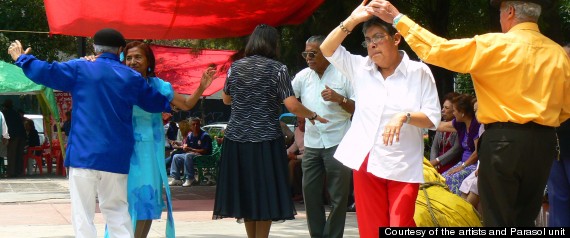 According to a Timeout London article, Gallardo was inspired by the public presence of danzón in Mexico City where many senior residents enjoy dancing in open squares. Seeking to encapsulate the city's notions of community and enjoyment, "A place to live when we are old," challenges the idea that with aging comes physical and mental decline.
The project originally premiered at the 2010 Sao Paolo Biennial and will be presented by Parasol Unit as a follow up to Kate Gilmore's 2011 "Walk the Line" piece, the inaugural Parasol Public event that also brought free live performance to London's streets. Accompanied by a site-specific drawing and video projections in the square, Parasol's new event opened yesterday and will run through the 15th as part of the Big Dance Week, the UK's biggest celebration of dance hosted in parks, schools and streets across the country.
Check out images of Ana Gallardo's "A place to live when we are old" below, and if you get the chance to venture to London this week, join in!
PHOTO GALLERY
Ana Gallardo's "A place to live when we are old"
BEFORE YOU GO